With a raise of hands, who over here has heard about the fancy gadget called the Apple watch? I bet you have and let me be the bearer of good news yet again; Apple is doing an excellent job when it comes down to upgrading their products and launching new models to this particular watch every year. So, rest assured, you would never go wrong with buying an Apple product. Not pitching about the company here people, but this is coming straight out of experience and me using the Apple products in one form or the another for the past 10 years now. Voila!
An Apple Watch is a smartwatch that allows you to receive notifications directly on your watch by connecting itself to your Apple iPhone. It is designed to deliver notifications, make phone calls and send and receive text messages and run a plethora of apps. There is hardly any app that is at a production level and its Apple watch version is not available! Period. There, I said it!
If you're like most of the people I know, you practically won't have the time either the energy to go through each and every bit of this nifty little gadget. But let me tell you, the Apple watch on its own offers so many features that even I who has owned almost all the generations of the Apple watches can't keep a track off. It is also estimated that smart gadget owners only explore to about 10% of the gadget's capabilities in their lifespan. I am referencing here about the gadget's lifespan.
To begin with, an Apple watch is more than just assuming that you are carrying your iPhone on the wrist. At the end of this article, you would have a complete understanding of what the Apple Watch is capable of and what it can deliver that would enhance your day and living experience. This piece of intelligence can help you be more productive, healthy, lose weight and save money. Heck, I know of quite a few people who use the Apple watch even to make money!
This article is suitable for those of you who already own an Apple Watch, are in the process of buying one for yourself or gifting it to your loved ones or whatnot or just looking out for a list of features that you can refer to as a guide to explore more about your already owned Apple watch, this article would definitely be your go-to place. Heck, why not just bookmark it?
What Can the Apple Watch Do?
Apple has launched a series of firmware updates in the previous years, and they would continue to keep on adding new features and enhance the user experience with each update.
The very first Apple watch (commonly referred to as the Generation 1) ended up with the iOS firmware watchOS 4.3.2. Subsequently, watchOS 6 is what is being used in today's modern Apple watch. Having said, that doesn't mean that the features that I have listed below are only applicable with the newer models. Rest assured, the majority of the features that I have listed below are very well suitable on the earlier generations of the current Apple Watch models.
Here is a list of 62 cool things you can do with your Apple watch.
Answer Calls using the Apple Watch
Your Apple Watch comes integrated with a built-in Bluetooth module. This module is used to connect to your iPhone in a matter of few taps on the screen of your Apple watch. The only downside to this is that the audio quality on the calls that you establish using the Apple watch is not of very high standards. It is excellent, but it is not the BEST. So, you are wise off resorting to attending calls via the Apple watch for shorter calls or if I may say quick calls. You get the logic!
Another downside to answering calls using the Apple watch is the mere fact that you are forced to hearing the other party speak via the speakerphone built-in into the watch. This feature is convenient if let's say you are busy doing something and do not want to go and pick up your iPhone in the other room. Just tap on the GREEN icon while the incoming call is being alerted to you and you are good to go.
If you are anyone like my grandfather who doesn't like talking on the speakerphone, then stay away from this feature of this particular watch and resort to using the iPhone to make and attend calls.
With each upgrade, Apple has launched fancy new features into their smartwatches. Perse, the Apple Watch Series 3 comes with an LTE function. What that means is that you can make independent calls directly from your smartwatch without the need of carrying or syncing it with your iPhone. Bear in mind that this feature adds an additional cost of approximately $10 per month. Another thing to note here is that you can not attend FaceTime VIDEO calls using your Apple watch.
Use Your Apple Watch as A Walkie Talkie
Once you have updated your Apple watch firmware to the latest watchOS 6, you can then finally use your Apple Watch as a Walkie Talkie. This feature began with the launch of watchOS 5.
What this Walkie Talkie feature does is that it allows you to use your Apple watch to send audio messages to the recipient (in this case, another Apple Watch user) and once that audio message is delivered to their watch, it plays out loud via the speakerphones present on their smartwatch. In order to ensure that this feature is not abused, there is a feature on each watchOS 5 and above firmware's, that labels as "AVAILABLE". You as the owner of the gadget are required to set your watch to "Available" if you want to send and receive the audio messages that auto-play.
This feature is especially useful if you plan on having fun with your friends by sending them audio messages that auto-play even if they are not aware of it. Be wary though, since I had a mate of mine send me Walkie Talkie messages that weren't supposed to be heard by my wifey. God, I had to put up a poker face! And guess what, the wife knows about this face. *wink
Use Your Apple Watch to Record Voice Memos
This feature is only available on watchOS 6 Apple watches
You can swiftly and very efficiently record a voice memo using your smartwatch. This is mainly useful while you are on about carrying out your chores and just with the tap on the watch, you can record essential voice notes to serve as a reminder, memo or notes. This eliminates the need for withdrawing your iPhone from your pocket or bags.
How to use the Voice Memo feature for the Apple Watch?
Open the Voice Memo app from the home screen
OR
Command Siri to fire up the Voice Memo app.
Tap that big old RED button in the centre of the watch screen.
Record your thoughts or the meeting.
Tap that big old RED button in the centre of the watch screen again to STOP recording
As easy as 1, 2, 3.
The beauty of this app is that it even works when the device goes into sleep mode. The recording is retained onto the built-in memory of your Apple watch only until it remains offline. Once the device is connected to the internet, it syncs the clips onto the iCloud and your devices.
Cycle Tracking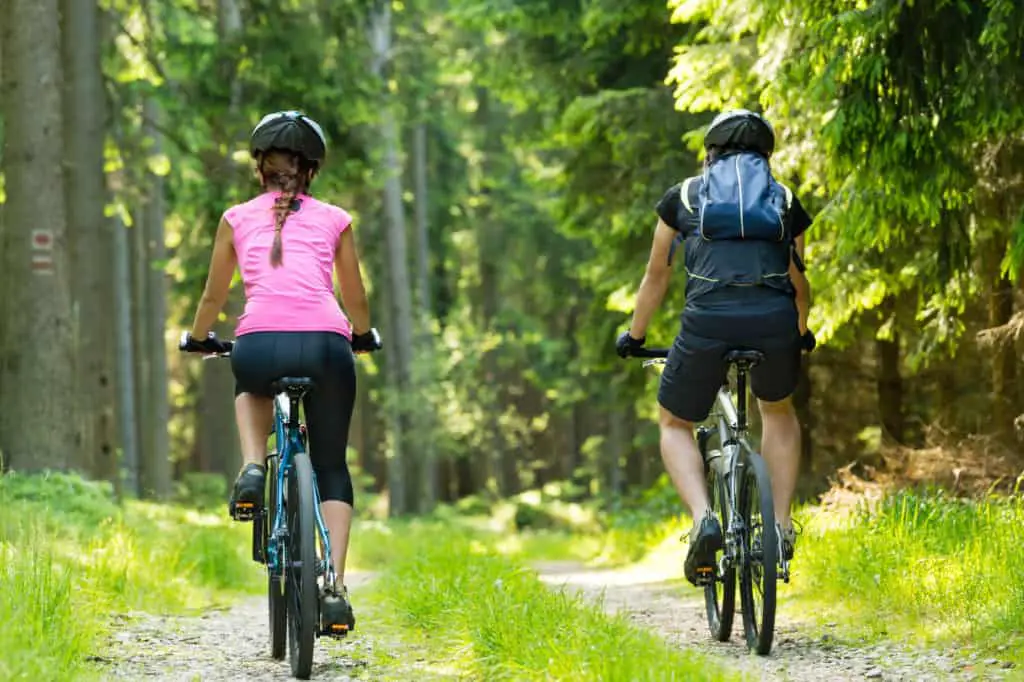 This feature is only available on watchOS 6 Apple watches
Apple has done a great job to incorporate its smartwatch to enhance your wellbeing. With the latest firmware watchOS 6, it allows you to track how much you have cycled and get alerts sent directly onto your smartwatch. Which obviously then sync with your iPhone once it is connected to it.
How to use this feature?
Open up the "Health" app on your iPhone
Within the Health app, tap on Cycle Tracking
Provide the information that the app requires about your last period of cycling
Once all of this information has been keyed in, the app uses it to predict the start of your next cycling period. You can then see this information on the Apple watch and also log flow as well as symptoms of your cycling period. What a feature I must say! You do not need to carry extra gadgets to measure your cycling anymore with this extravagant feature.
Monitor Dangerous Hearing Levels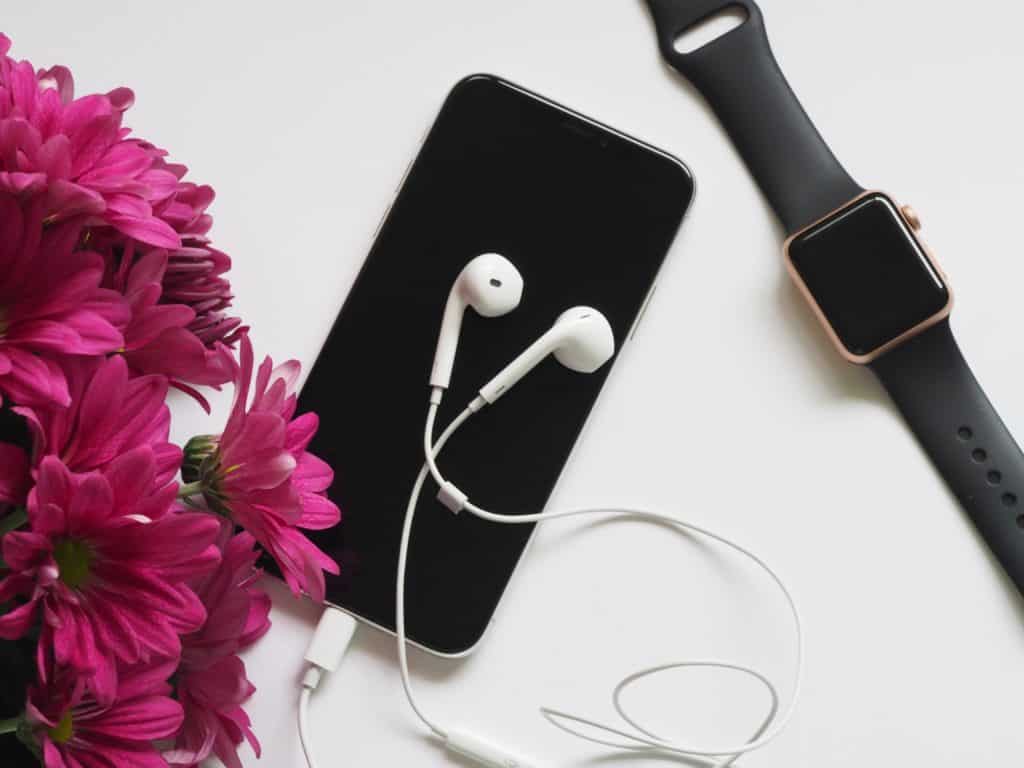 Ever been concerned that the music being played is too loud or too low? Paranoid if the sound around you is so very high that it can damage your ears? Then fret not! With the invent of the "NOISE" app that is available in the Apple watches allows you to gauge the sound levels in your environment thus enabling you to make a concise decision of whether to use ear protection or just take a break and walk away.
How to use this feature?
Go to the app screen of your Apple watch
Tap on that yellow ear icon
This opens up the hearing application
From this screen, you can enable or disable the access
Once the app is activated, there onwards, you can then monitor the sound levels. You can also add a noise level complication to see this at a glance on your Apple watch face. Handy!
Use Your Watch As A Calculator
Apple has done an excellent job by introducing the "Calculator" application directly into your Apple watch. A long-awaited one I may add!
This feature especially comes in handy when you want to do the calculations in a jiffy. There is also a "Tip" button added on the top that allows you to calculate gratuity based on percentages of what the total value you have concluded using the calculator app.
The "Tip" feature allows to you further add the total number of people you propose to split that Tip percentage with. This is a handy feature when you are handing out gratuities to the waiters at your favourite restaurant. Now you don't need to ponder over how much of a percentage should I be giving out to each waiter who catered you.
Using Your Watch as A Compass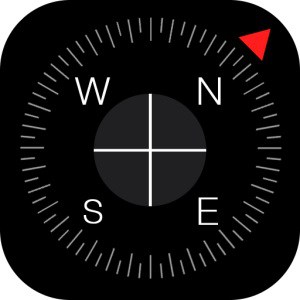 Sadly, this feature is only available on the latest Apple Watch 5 series.
Just like any ordinary compass, this app enables you to use a compass right off the wrist. It gives you information such as
Incline
Elevation
Latitude and Longitude
To get closer to accurate readings off of this compass app, you need to ensure to keep the watch away from any metal objects. Whether they are nearby or are a part of your attire, metal objects would severely interfere with the way this compass operates.
This feature especially comes in handy when you are out hiking or trekking. And if you can shell out that extra cash, they might as well pick up the Apple Watch Series 5 with LTE support. Given which you do not need to carry your iPhone with you.
Always Be Able to See the Display
This fresh new feature is only available in the new Apple Watch Series 5. Earlier on you had to raise your twist or touch the watch to be able to see the display. And when we say "Display", the whole purpose of carrying a watch on your wrist is to be able to see the time without acting like a kung-fu martial artist! Banter
With this new cool feature now in place, you can toggle the "Always-on Display" that lets you see the time without the need of touching the watch or raising the wrist. This is a perfect feature if you need to catch the time at a glance in a meeting or during an important conversation.
You can use this new feature along with other apps that are installed onto your Apple watch. A best possible example of this is when you are working out. The app would continuously keep the screen lit, and you would be able to track and measure your progress along the way.
PRO TIP:
This feature doesn't eat up your battery life.
Listening to the Podcasts
This long-awaited feature was brought in with the latest watchOS 5 update.
With this app, you can now sync podcasts to the Apple watch based on the ones you listen to on your iPhone when the watch is connected on the charger.
If you are out and about, you can easily stream the podcasts on LTE supported models or via Wi-Fi.
This is a handy little upgrade that works wonders if you are someone like me who listen to podcasts while driving to work.
Activity Competition with Your Mates
This fresh new feature is something that I use almost daily. We all know of the activity tracker feature in the Apple watches. Earlier on it used to keep track of what you do and reciprocally issue you with stars and morale-boosting messages. Well, so as I call them!
You can now use the activity feature to compete with your friends, family members and colleagues. All you need to do is to set up the 7-day challenge against a Contact present in your Phonebook. Once they confirm the invitation, all you need to do is to keep a track of their achievements against yours. Voila, a sense of competition and motivation right at your wrist strap. If this is technological warfare, then what is?
This feature allows you to keep going when you might otherwise slack off at the end of the week. Knowing your competitor is slightly ahead of you, would boost you to perform better to meet those goals required to award you with that activity trophy.
Using the Apple Watch as A Flashlight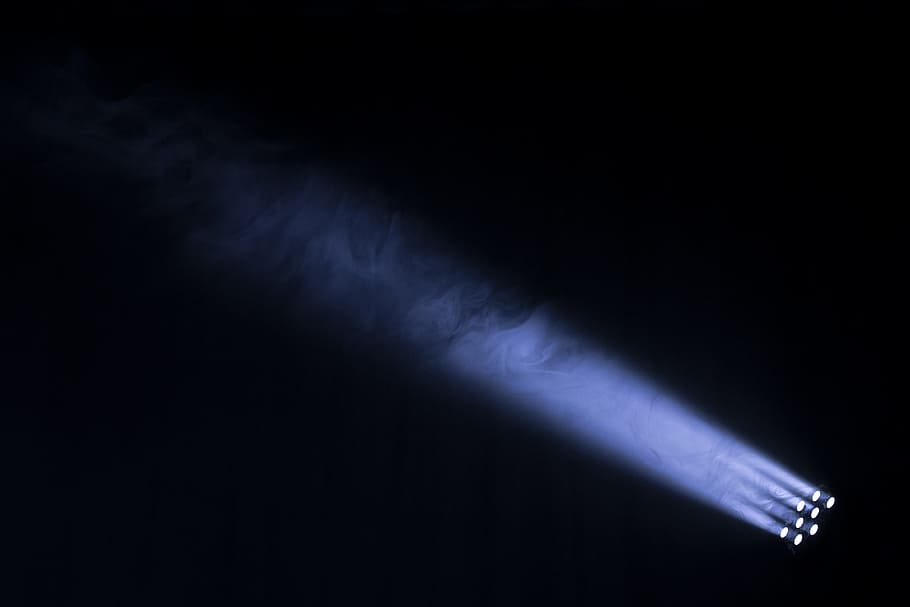 This feature is available on all the Apple Watch versions. You can use your very own Apple watch as a flashlight. A quick head up though, it would not serve as a replacement to your ordinary flashlight. But it provides you with enough light to brighten up tight spaces. This is especially handy if you are trying to fit a screwdriver into a hole when there is no light around.
This can also come in handy when you are out strolling in the park at nights. Just switch on this feature and this always-on light would enable the other person distant away to know that someone is around too. You also have the liberty to change the colours from white to red and many others. Just fire up the app and swipe up on the screen, giving you the option to choose between different colours to act as a flashlight.
Use the Apple Watch Under Water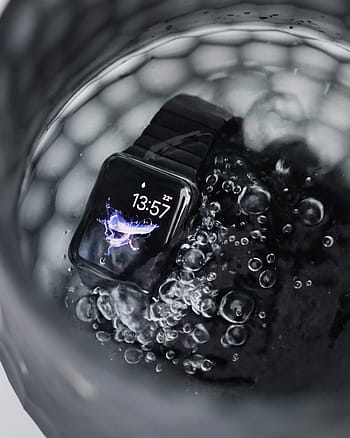 This cool feature of being able to use an Apple watch underwater is sadly not available in Generation 1 models. Right from Generation 2 and upwards, you can now use your Apple watch when you go swimming. The new models are waterproof up to 50 meters underwater. Thanks to an upgraded sealed design that Apple is using to ensure the gadget remains protected underwater.
So, feel free to swim, run out open in the rain or through a tough mudder and much more; by carrying the Apple watch on your wrists without any fuss. And yes, it works flawlessly for all types of waters:
Freshwater
In pools
In the ocean
This is very handy for those users who often need to work with water or ponds. Obviously, you wouldn't want to risk carrying your latest iPhone 11 Pro Max into the pool, well I would and many other YouTuber's have gone out there and tested their expensive iPhone's in lakes and in the oceans. But the results are mixed, and hence I would not preach that you test the waters with your fancy new gadget. Although these Apple iPhones are water-resistant if you want a comparison between the watch and the iPhone, then the Apple Watch has better water protection as compared to Apple's iPhone series.
Tracking Your Runs Without the Need of an iPhone
Other than the Apple Watch Series 1 (Generation 1), all the subsequent models now have got a built-in GPS. Simply put, it means you can just wear the watch on your wrist and hop away and continue on with your workout and running without the need of carrying your iPhone with you to track your progress. As we all know that Apple launched this feature in their iPhone 7 Plus and thus masses of people resorted to carrying this bulky handset on them while they were out jogging. But with the incorporation of built-in GPS into Apple's Smartwatch series; you can now keep your iPhone at home during your jogs and runs.
With the help of this feature, you can now more accurately keep track of distance and pace. You will also be given the functionality to view the route you took when you connect your watch to the iPhone to sync up on your daily progress. This feature in the Apple watch allows you to keep a log on
Precise distance
Speed and pace during runs
Walks and Cycle rides
If you are planning on buying the Apple watch series, then I would suggest to pick up the model with LTE support. With that, you can even get directions and stream Apple Music from your watch to the Bluetooth headphones.
All the Apple Watch Series 1, don't be down after having read this feature is only supported on Generation 2 and above models. The Generation 1 Apple watch is capable of tracking time and estimating distance based on your "PACE", but you will not be able to track the actual location during the run. So if I were you, I would shell out that extra cash or heck, even use the Apple Trade-in feature available on their website to bargain off the newer Apple Watch models. You can get up to $30 off on your new Apple watch if you use the given link.
Silence the Apple Watch in A Movie Theater
As soon as Apple launched it's WatchOS 3.2, this feature became live. You can now swiftly tell your Apple watch not to light-up when you raise your hand or any other movements that are related to waking up your Apple watch by only using this option.
This is especially bad when you are in a movie theatre and just by raising your wrist, the watch lights up. Causing a distraction and annoyance not only for you but also for others who are snugged into a dark theatre. With this feature enabled, the sounds and notification noises also stop; so you can just enjoy the movie as it is intended to. Worry not, you won't miss out on any notifications while this mode is enabled. You would still get notified in the way of vibration on your wrist. It is just less likely that people around you would be annoyed by that tingling buzzing noise (vibration).
How to use this feature?
Swipe up from the main Apple Watch screen
You will see a pair of theatre masks
Tap on these masks one to enable the theatre mode.
Don't forget to tap it back once you are out of the theatre.
PRO TIP: IF YOU DON'T SEE THE THEATER MASKS, update your watch to the latest firmware as this feature is supported even on Generation 1 models of the Apple Watch.
Swap Your Watch Face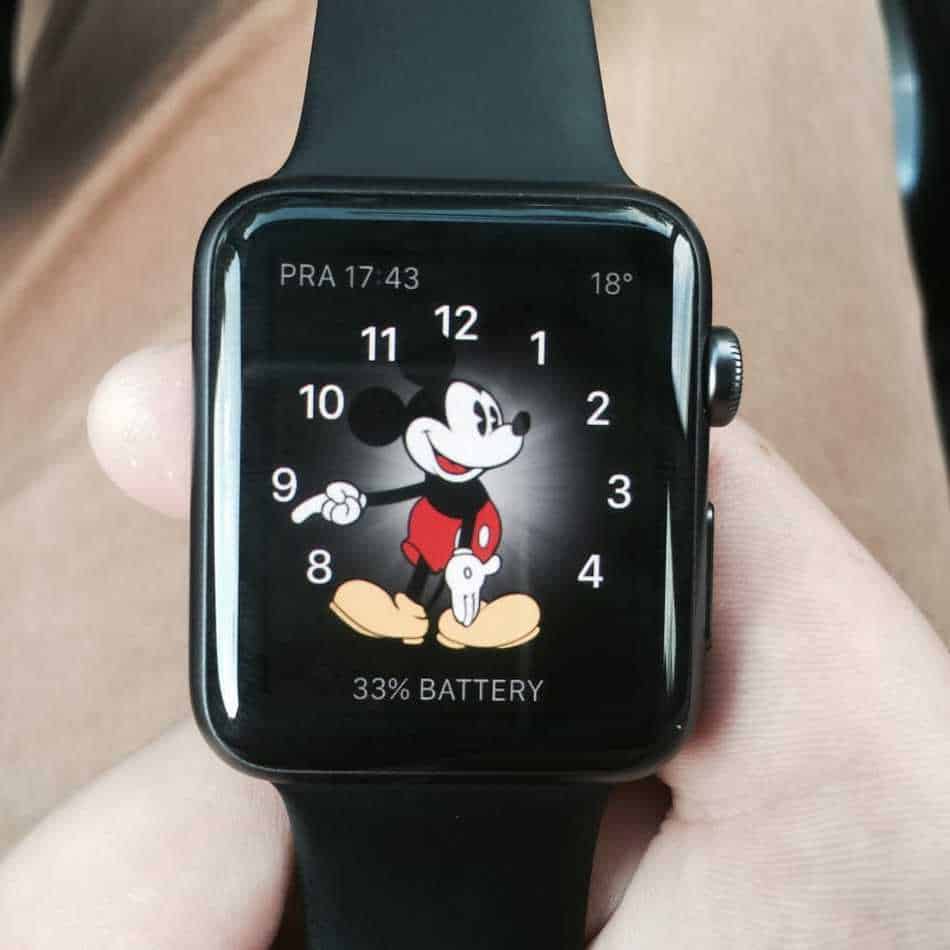 You can change the watch face on your very own Apple watch and sway away from that gloomy old analogue looks of that of a traditional watch.
There are over a dozen Apple watch faces that you get to choose from. Imagination is the key here. You can even use photos, time-lapses, motions, a group of pictures and much more. You also have the liberty to customize the faces by adding complications from Apple and even from a plethora of other 3rd party applications.
There is quite a range of faces to suit your activities that you intend to carry out daily. From fitness to functional, from trendy to funky; you can very well choose to stick with the analogue look, a Mickey Mouse watch face, and digital options and some of the watch faces integrate directly with your calendar and other details such as the sunrise and sunset timings etc.
Quick Access to Information
The Apple Watch is capable of displaying and delivering fast access to information with a dock of recent apps that you can choose to see by the press of a button.
Just simply press the side button on the watch, and you can pull up the Dock. We all know that double-tapping the home button on the iPhone fires up the app switcher. You can consider Dock something similar in those lines. Pressing the side button on your Apple watch would fire up the dock and would give you access to information and apps. You can customize the Apple watch dock in the Apple Watch app on your iPhone.
You can add all sorts of information and apps to this mode, and it is indeed a great way to stay on top of the information that you require daily.
Give a try to the app called "Slack".
Monitor Your Heart Rate
The Apple Watch is designed to be a smartwatch and has got sensors built right into it. These sensors can be found at the back of the watch. Just tilt and find out!
The data that this feature on your watch records gets stored into the "Health" app. This feature records your heart rate at regular intervals and stores the data into the iPhone once the watch is synced to it.
If you are really keen to know if the heart rate feature in actuality is credible or no, then head over to this article on how the heart rate monitor app on the iPhone has saved the lives of people.
You may also use this handy feature while you work out. Or when you are out jogging or running and want to keep a tab on your heart rate regularly. The American College of Cardiology presented a case study where they used the new app called as the "Apple Heart Study" to identify AFib in a small group of Apple Watch wearers.
Track Your Fitness Levels
Multiple sensors are used by the Apple watch to help you stay fit. It can monitor your movement and track your progress towards healthy goals that the Apple Watch will help you set using the app on your iPhone.
The progress is measured using the following three categories:
Movement
Exercise
Time spent standing
Movement measures the total amount of calories burned.
Exercise is when you reach the 30 minutes exercise goal on a particular day.
Time spend standing alerts you when you are too sedentary.
The watch will alert you to stand up if you sit for too long and also nudge you towards movement and exercise to reach the desired goals.
If you want to adjust you the movement goals, just press a bit firmly on your Apple watch's screen while in the Activity Area.
This information is then synced to your iPhone once you connect it with your watch, and the data then gets stored into the Health app.
View and Reply to The Texts
You do not need to draw out your iPhone every time you receive an SMS, an iMessage or a WhatsApp notification. All of these notifications get synced directly to your iWatch in real-time and all you need to do is to raise the wrist and read the message.
There are a couple of ways you can resort to while replying to these messages directly from your watch. You can either reply using Canned Messages or use Siri to dictate a reply or perhaps by scribbling the reply letter by letter using your finger.
It is a handy way to know once you have received a notification on your iWatch, whether the response required is intense or just a canned message. In both the scenarios, you have the option to either reply using the iWatch or just pick up your iPhone and reply-away.
You are even given an option to reply directly with an emoji. Let me be the bearer of good news here, the scribbling option is too perfect and accurate when you scribble the words. But there is a steep learning curve and requires a decent amount of time before you could actually send the message across. If I were you, I would just pick up the iPhone and compose a reply using the on-screen keyboard instead of resorting to the iWatch to type a response.
You can also see recent conversations in the Messages app on the Apple watch. This too works with the iMessage and regular text messages.
Send Apple Watch Emoji
If you love to send animated emoji's using your iPhone, then you would absolutely love this option being available on your Apple watch as well.
Some users find this particular feature a lot more annoying, but for me and the wifey, this is a beautiful way to send funny emojis across to each other at work all day. Just one way to send a love message across I would say, isn't it?
iPhone Notifications on Your Wrist
This comes in especially handy if you have got apps that are connected to your smart home using your iPhone. All the notifications that get sent out via your iPhone are capable of being displayed in real-time straight onto the Apple watch.
You can even customize the way the notifications are synced in between your iPhone and the Apple Watch. You wouldn't want to be bugged with regular candy crush invites and Facebook notifications being sent to your iWatch all day. Fret not, you can customize the way these notifications are sent using the iWatch app on your iPhone.
But this is especially handy if done right. I have configured my smart home ecosystem apps to be sent on priority to my iWatch. Something that SmartNutter.com readers would embrace, I am sure of it!
Share Your Heartbeat
With your Apple Watch, you can share your heartbeat with your mates or your loved ones. This acts as a way of conveying a more personal message, which the recipient gets directly onto their iPhone's or their Apple watch. Once someone receives the heartbeat that you send to them, they will receive haptic feedback; something extra for that special somebody whom you would like to convey your feelings this Valentine's day!
Apple Pay
With the advent of card-less payments and wireless payments picking uptrend, Apple Pay can be used directly off of your Apple watch without the need of you drawing out your phone to process the payment. All you need is your watch present at the POS (point of sale) and just bring it close to the machine, and voila, the payment gets processed.
The Apple Pay mobile wallet currently supports the following iPhone models:
iPhone SE
iPhone 6
iPhone 6 Plus
iPhone 6s
iPhone 7
iPhone 7 Plus
iPhone X and all the models launched after this.
In order to use the Apple Pay, all you need to do is to add your credit or debit card directly into the Apple Pay app on your iPhone.
To use the Apple Pay, just double press the side button and the Apple Pay app fires up. Just bring it closer to the kiosk, and the payment gets processed. No need of carrying your credit cards on you or drawing out your wallet to get hold of the cards. It's all wireless baby!
All Your Apple Watch Apps on One Screen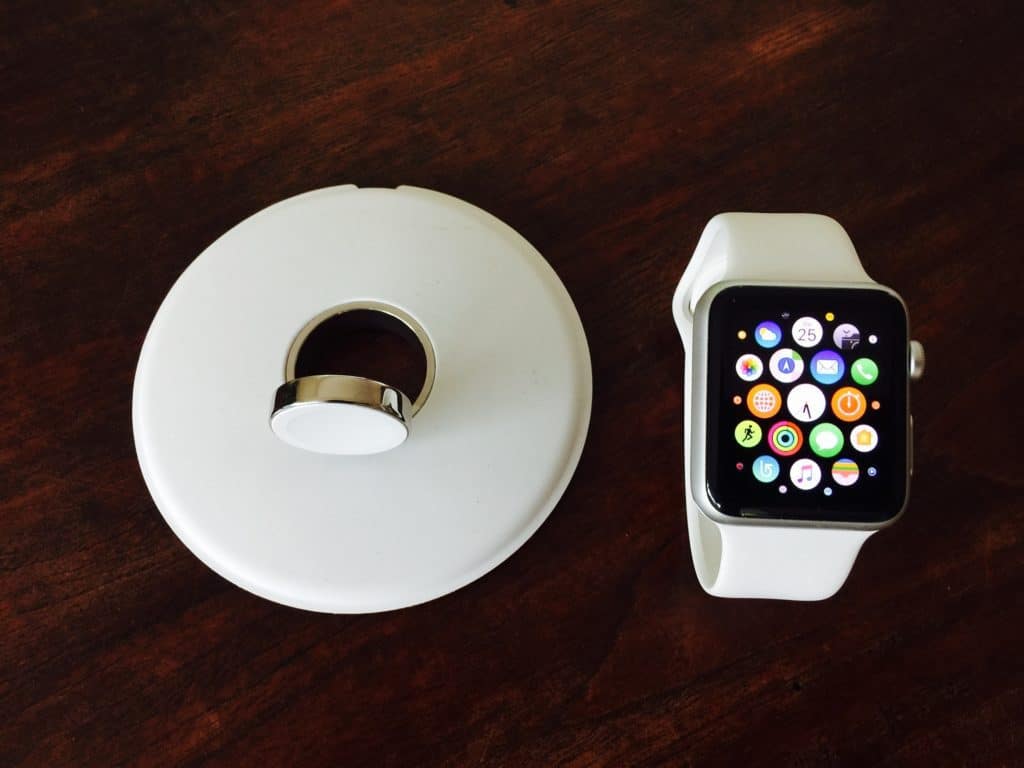 You can install a plethora of apps on your Apple watch. From controlling your tv & your set-top boxes (given they are compatible with the Apple watch) to tracking your runs, ordering burritos using your favourite food app, viewing Instagram photos to shopping on Amazon and much more.
All of these apps are present on the screen in the form of tiny circles with their icons clearly visible for you to understand which circle corresponds to which particular app on your Apple watch. You can easily navigate in between these circles using the Digital Crown on the side of the Apple watch. Just move the crown downwards or upwards to navigate yourself in between the apps and just press the digital crown in to access the selected app on the screen.
You, as being the owner of the Apple watch, have access to what apps get installed onto the watch with the help of your iWatch app on your phone.
Navigation Directions on Your Apple Watch
The Apple Watch is now capable to show you the directions to where you want to go, right from your watch screen. This has immensely helped me to get around without the need of carrying my iPhone on me while I need directions.
The watch vibrates when you are near a turn just so that you do not need to look at the watch. The way the watch vibrates is different whenever you are required to take a left or a right turn. So, all you need to get acquainted with is the vibration modes.
You need to ensure that you set up your directions in the Apple Maps and not any other maps. Although I haven't tested this myself using Google Maps, this works wonders with the Apple Maps.
You can also ask for directions directly on your Apple Watch using Siri. Just ask Siri for the directions, and the map would pop up right on to your watch.
Keep in mind though that this feature is quite taxing on the battery of the Apple watch and on longer trips this can wear out the battery rapidly. Your best bet is to use this for a limited period of time and does not forget to close the app once you are done with the directions.
Share Drawings with Your Friends
Why not sketch out a small drawing and send it out to your friends? All you need is your imagination and the drawing app on your watch, and voila, you are now a real Van Gogh. Pun intended!
The drawing once done on the watch will come across as an animated sketch. The recipient can also send you back a picture, causing a good conversation starter or just to lighten up the mood.
Use Siri on the Apple Watch
Siri is a permanent resident of the Apple watch, so to say!
"Hey Siri" is the command you need to use to trigger it, and once it fires up, you can virtually control your smartwatch with its help. Talk about being an IronMan!
One of the setbacks still with using Siri on the Apple watch are that the iPhone needs to remain unlocked before you can use the features you demand out of Siri. For example, using the Maps; you need the iPhone to be unlocked before Siri could give you the directions.
With the new Apple Watch, Siri can now talk back to you just like your regular Siri present on the iPhone. This way, you don't need to look at the watch while passing instructions to it.
Browse Photos on Your Apple Watch
You can sync photos from your iPhone directly onto your Apple Watch so that you can see them even on the go without the need of using your iPhone. For myself, I have kept a complete album of my son's photographs onto my Apple watch!
There is a limitation, though. You can only sync up to 500 photos on the Apple Watch using your iPhone. And the best part is that you can use these photos as a custom face watch. Talk about innovation!
Connect the Watch Directly to Your Car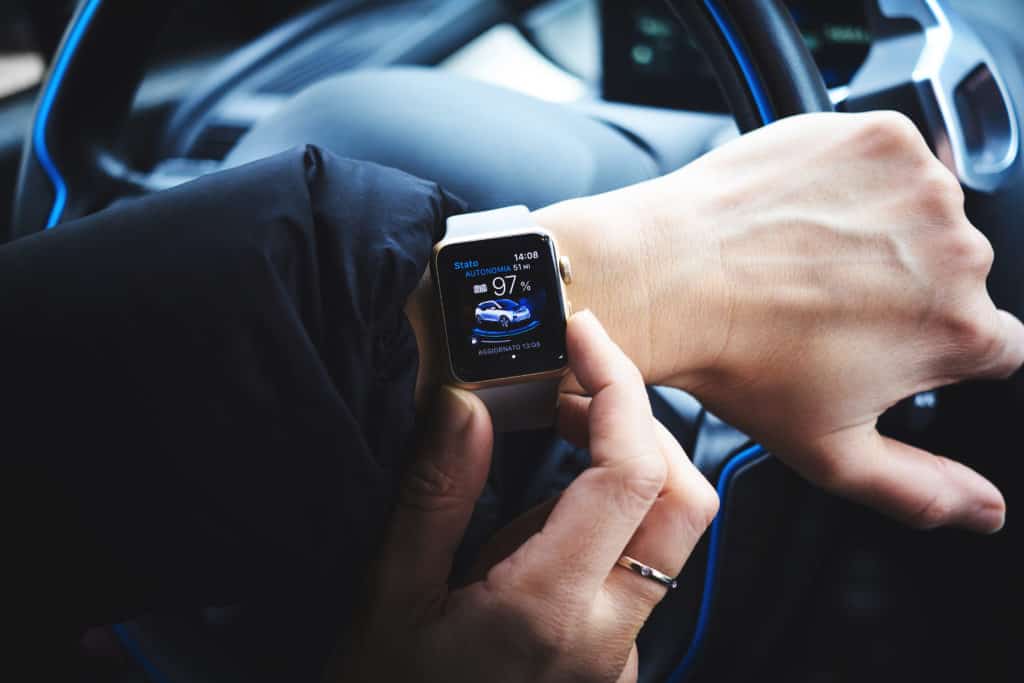 Assuming you own a new and an expensive car from Tesla or BMW, you can now use the Apple Watch to sync with the vehicle. Apple, in their recent promo, showed on stage that allows the BMW app on your watch to know the range of their BMW car, its charging status and also if the doors are locked or not.
Hyundai too offers an Apple Watch app that lets you remote start your car and control the locking and unlocking of the doors.
Other after-market products are available in the market that can let you connect your car using such apps directly via the Apple watch. One of a kind is known as the Viper SmartStart. Head over to their site to find out more about them.
Almost all of the Apple watch apps that support your cars would have the option to:
Honk the car
Flash the lights
See fuel levels
Battery ranges
Send Facebook Messages
Whenever you get a new Facebook message, it gets sent as a notification to your Apple watch. You can then either reply with an emoji, a thumbs up icon, send the recipient your location or a custom-designed message using the microphone to dictate. And mind you, the voice dictation on Apple watch is quite good. You can also scribble your message letter by letter to compose a reply.
This is especially handy for those who rely heavily on Facebook messages to stay in touch and socialize.
Within the Apple watch Facebook App, you can see the Facebook Messenger inbox and conversations.
Keep Music on the Apple Watch
This is a handy new feature for music lovers. You can now store your favourite music directly on the Apple Watch and connect Bluetooth headphones to it and listen to music during your workout. No need for carrying your phone with you to play the music.
You have the option of syncing music in between your Apple watch and:
iTunes purchases
Apple Music
iTunes Library
You can choose the playlist that you would like to sync with your Apple watch. In order to avoid battery drains, you can also choose to sync the music in between your iPhone and the Apple watch only when the device is connected to the wall-charger.
To make this feature useful, you definitely need to invest in a Bluetooth headset.
Stream Apple Music directly on the Apple Watch
To use this feature, you need to subscribe to the Apple Music subscription. Apple is offering a FREE TRIAL on the Apple Music for you to test it on both your Android devices and the iOS devices.
To stream right off of the Apple watch, you need a watch with the LTE support version.
The Apple Music app allows you to stream approximately 40 million songs on your watch, directly to either your AirPods or any Bluetooth earphones virtually anywhere where your watch can pick up the mobile data signals.
This basically eliminates the dependency of continually changing the playlists in between your iPhone and the Apple Watch. You can stream right from the Apple Music app while on the go. But bear in mind, this feature is only available with the Apple Watch Series 3 LTE and above.
Share your Location
You can now use the Apple watch to share your location with a friend. This feature was only available in the iPhones at the beginning stages but now is incorporated right into the Apple Watch.
How to use this feature?
In the Messages app, open a conversation and then press on the screen to bring up the second set of options. Tap on "SEND LOCATION" to share your current location, Voila! As simple as it sounds.
Checking Your eMails On the Apple Watch
If you are anyone like me, who lives and breathes emails a day in day out; then this one is for you!
You can get email notifications sent directly onto your Apple Watch, read them, flag them, open them or even delete! All of this can be done using the Mail app on the Apple watch.
One downside to this is that there is no Apple Watch Gmail app available as of now. Don't really know if there are plans to build one. But you are pretty much stuck with using the iPhone mail app to configure all the mailboxes that you own.
Control your Apple Music & Apple TV
If you own an Apple TV, then read no further and head straight onto the Apple's site and pick up the latest Apple Watch 5. Because with this new watch, you can easily control the Apple TV you have at your home.
This is specifically crucial during times when you are burning your sweat to find where that tiny Apple TV remote has been hiding. And yea, the Siri remote falls in that same category too!
List of features the Apple TV Watch app offers are:
Pause the TV
Swipe through the menus
Scroll through lists
Choose movies
Listen to iTunes
Radio and more!
Remote Camera Viewfinder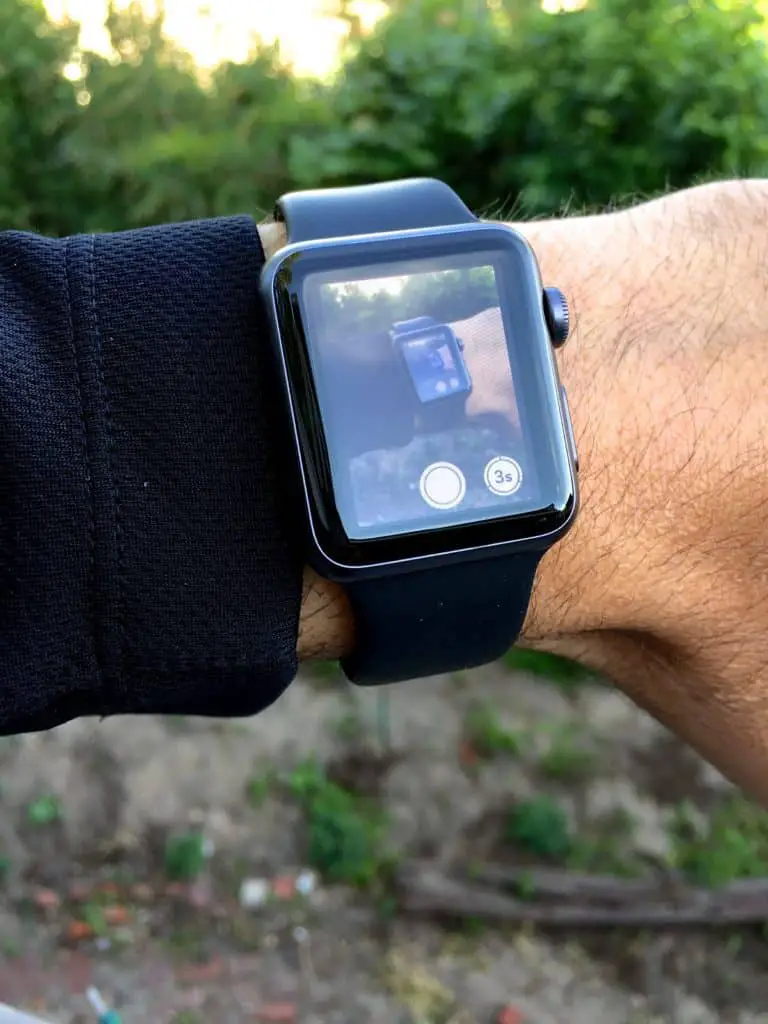 This is a handy little tool if you are a photo-holic. If that's the right word?
With the help of the viewfinder app, you can easily set yourself up in front of the iPhone's camera and see on the Apple watch with the help of a viewfinder if all the angles are correct and if the camera is covering everybody. Once everything looks great, just tap the big white button on your display on the Apple watch viewfinder app and snap you go.
As of now, there is no built-in camera into the Apple watch. But rumours are the Apple might embed a camera directly into the Apple watch and make it an Ironman gadget. Pun intended!
Find Your iPhone Using Your Watch
If you are not able to find your iPhone but, on the Apple, watch, you can see that it is still connected to it. To use this feature, all you need to do is to swipe up on the main glance screen that shows the "AIRPLANE MODE", "DO NOT DISTURB", "SILENT MODE", tap the phone icon at the bottom left to ring your iPhone. You can also tap and hold the icon to RING and FLASH the iPhone flash.
Carrying Tickets on The Apple Watch
With all your travel, concert or any other tickets readily available in the Wallet app of your iPhone, you can now use the Apple Watch wallet to just scan those tickets without the need of drawing them out from your wallet to show them to the usher or at the kiosk.
Apple has gone the extra mile on sending you Wallet alerts for tickets or loyalty cards that match your current location or activity. You can now even carry your airline tickets on the Apple watches.
Using Apple Watch as a Night Stand Clock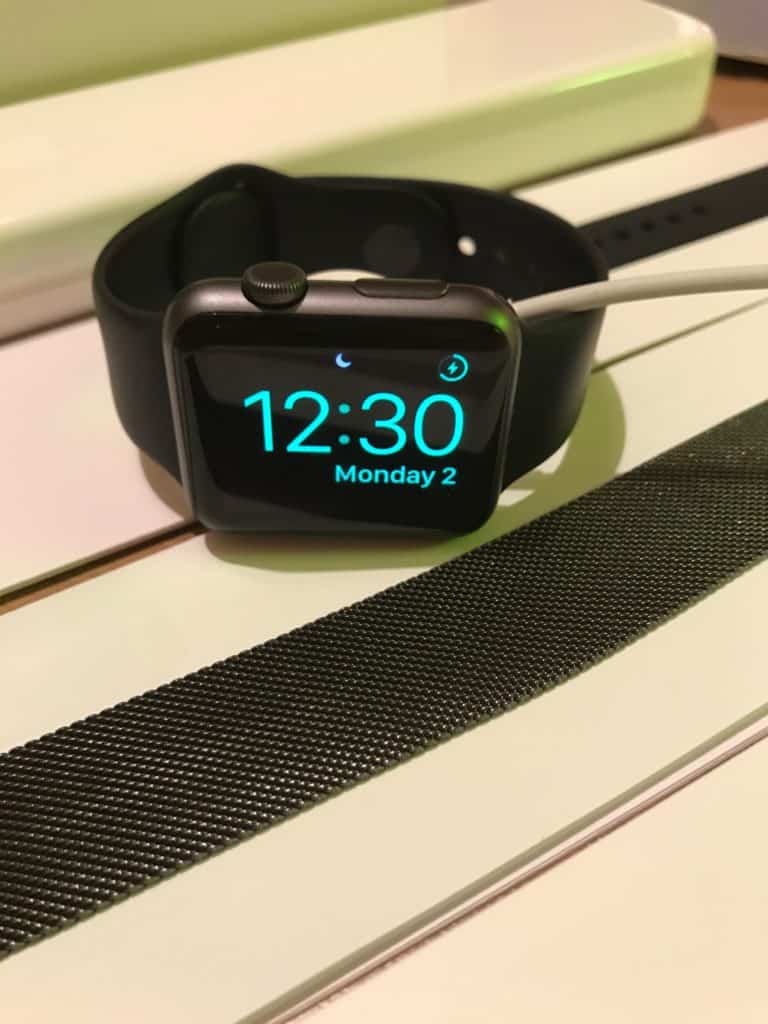 When you connect the charger to your Apple Watch, it will now by default show you the time in a night friendly mode.
Plug in your charging cable into the Apple watch to activate this feature.
This feature is fundamentally important if you are in a hotel or at an Airbnb. You do not need to rely on anything else to act as a nightstand clock other than your Apple watch.
Set Your Apple Watch 10 Minutes Fast
If you are like me, who always runs late for work, then this feature is specifically targeted to people like us. It is straightforward to configure and would still display the time in an increment of 10 minutes no matter what watch face we use.
How to use this feature?
Open the Settings app on the Apple watch
Tap on Time and on the centre of the screen
Use the Digital Crown to set the watch 5 to 10 minutes fast
You can also set the time fast up to 59 minutes
Use this feature at your own discretion. Since I usually wouldn't change the increments of fast time to anything above 5 minutes. 10 minutes is the max! Let me know via the contact form what you think about this?
Send an SOS
If you are ever in need of emergency help, all you need to do is to long hold the side button and the SOS feature will pull up on the watch screen.
Three sliders would appear denominating:
Power Off
Emergency SOS
Once you slide the EMERGENCY SOS to the right, it will connect you to your nearest emergency responders in the area.
As soon as the slider on the EMERGENCY SOS is slid to the right to initiate a call, a countdown timer from 3 to 1 appears. Upon reaching 0, the call initiates!
Since the watch knows your location as it is connected to your iPhone, it will only connect you to the nearest emergency responder even if you are overseas or on a holiday.
Extra Motivation to Close Your Activity Rings
The Apple Watch with WatchOS 4 will now give you a daily inspirational message to get you going on your Activity for the day. You will see a message whenever you wake up, letting you know that you are close to a specific goal and gives you that added boost through the day.
If you haven't met the activity levels and you are closing in for the day, the Apple Watch will give you an evening Push to close those rings. If you are very close to achieving those goals for the day, it will push you with motivational messages that would allow you to take that extra step to close those rings. This is what I call as a real smart gadget!
You can also track your monthly goals using the Apple watch. All of these are actually designed to put you back into shape and keep you mobile throughout the day.
Keep You on Track as A Virtual Assistant
The watchOS 4 adds a ton of new features to your Apple watch. One of them is the watch faces that we have already discussed in detail above in the articles. But for the most impressive one is that you will get a new virtual assistant on your wrist.
This feature is called as the "All-Day Assistant" that sits as your Apple watch face and is powered by Siri. It shows you:
Upcoming appointments
Reminders
Basically, the whole purpose of this app is to provide you with a schedule of what is upcoming throughout the day for you. This is a watch face, so you do not necessarily need to open any app to see this info. All you need to do is raise your wrist or touch the buttons, and the display fires up with the All-Day assistant face.
Send Money to Your Friend Using Your Apple Watch
This fresh new feature lets you send money using your debit card via the Apple Pay Cash application. All you need is your debit card and the app, and you can then freely send and receive money.
With the launch of WatchOS 4.2, this feature got embedded into the Apple watch as well. Now with the help of your Apple Watch, you can send and request money via the Apple Pay Cash application.
Once you receive the money, you can either transfer it directly into your bank account or use it just like a credit card.
For this to work on your Apple Watch, you would first be required to set up the Apple Pay Cash application onto your iPhone.
How to use this feature?
Detailed instructions are available on the Apple site. But a simple breakdown is as of below:
Open up "Messages" on the Apple watch.
Scroll down until you see the "Apple Pay" option.
Tap on it and choose the amount you want to send.
Voila!
Using the Apple Watch as A Stop Watch
You can use the Apple watch as a stopwatch right out of the box. There is no need for installing any application to use this feature.
The Apple stopwatch also has the "Laps" feature in it. Which is perfect for those who are into running laps. You can either use this to track the laps for your own self or of your kid. Therefore, eliminating the need for buying separate stopwatches to do this for you.
How to use this feature?
Press the Digital Crown to open the app screen on your Apple watch.
Tap on the small stopwatch icon.
You can start the stopwatch with the button on the side of the watch.
Similarly, with each consecutive push, once the stopwatch is running, each push will count as a lap.
Swipe up to see the 3-lap indicator.
Carry Your Store Loyalty Cards Wherever You Go
Any loyalty card that has an app available for your iPhone, rest assured would auto-sync with the wallet available on your Apple watch as well. This is an easy way to store your loyalty cards on you wherever you go and without the hassle of either keeping a plastic version of it in your wallet or showing the POS operator your mobile screen to scan the card for you.
How to use this feature?
Press the Digital Crown
Tap on the wallet icon
Scroll to find the card you want to use
Controlling Your Smart Home
Managing a smart home is never too difficult, but what if I tell you, you can now control your smart home gadgets' using the Apple watch. Now' this is what I call as a real "Jetson" living!
For this particular one, you can use the Apple Home app, Siri and many other apps on your Apple Watch to control your smart home.
The only catch is that Apple watch supports only the HomeKit compatible items. A list of actions you can do with the Apple watch in your smart home environment are:
Locking or unlocking your doors
Turn lights on or off
Turning Apple HomeKit accessories on or off
You can also use Siri on your Apple watch to control the HomeKit accessories. The sky is really the limit to what you can do with a smart home. For more information regarding smart homes and how you can conservatively convert your dumb home into a smart home, please heave over to the main page of my blog https://SmartNutter.com and you would be surprised to know how easy and effectively I have done all the changes that have finally given me the title of a SMART HOME Owner!
Get Weather Alerts
The primary weather app available on your Apple watch lets see you the weather in your particular area. But how about supercharging it with Dark Sky?
This excellent paid app allows you to get notifications sent to your iPhone and the Apple watch before it is going to rain or snow. You can get an alert approximately 15 minutes before it is about to rain or snow. Which is a perfect solution for kids and for people with dogs?
I personally use it to know if I am supposed to take my kid out for playtime in the garden. Or schedule my dog lieu time out right when the rain is about to start.
Download this application right away and set up the notifications for it to outperform any other weather app out there.
Your Apple Watch as A Translator
Ever got caught up in a situation while on holidays where the person whom you are communicating to has a hard time understanding your accent or even plain English? And the best thing about this is that there is an offline mode to this too.
Well, with the Apple watch you can get hold of a FREE app called as the "iTranslate" that offers In-App purchases to unlock some additional cool features. Which I am not going to discuss here as they are out of the scope of this article. This app allows you to translate from over 100 languages. More languages are continuously being added, thanks to the company who has built this application.
All you need to do to use this is to install it on your Apple watch, and then fire up the app. Speak in your language to the iTranslate app, and it would then convert what you have dictated to it in a text format in the language you want the other person to understand. There is even a voice playback option that would speak out the text translated in the recipient's style.
A convenient tool, especially if you travel too often. Gawd, I need a break from the screen and go out for a holiday also!
Checking your Instagram
If you are keen on using Instagram daily, then you would absolutely love this feature of the Apple watch. The Apple Watch allows you to view your Instagram feed and photos right on the Apple watch screen.
How to use this feature?
Install Instagram on your iPhone and sign-in with your ID and password.
Now go to your Apple Watch apps by pressing the Digital Crown.
Tap on the Instagram icon, and from there, you can see your Instagram in real-time.
You can also like the photos, and you can also see more information on a post such as:
Comments
Caption
It is indeed a cool way to dip into the platform.
You can't, however, upload photos from your Apple watch to your Instagram page. But since the Apple watch as of now has no camera built-in into the device, there is practically no requirement to upload pics from your Apple watch into the Instagram. Who knows once Apple finally incorporates a camera into the watch, Instagram might also support uploading of images and videos directly from your watch? Time will tell!
Track Your Sleep Time
The Apple Watch doesn't have any built-in sleep monitoring tools. But you can always install a 3rd party app that I still use, called the AutoSleep 5. It costs $2.99, but it is well worth it.
Once the app is installed onto your Apple Watch, all you need to do is to make it a habit to wear it before you go to sleep.
This app is capable of:
Track your sleep quality
Deep sleep stats
Other data including how long it takes you to fall asleep
Keep Your Passwords on Your Wrist
You can use the Apple watch to act as your password manager and password vault.
The LastPass app is a 3rd party application that you can use to store all your passwords in one place.
This is however only practically useful if you have an Apple watch series 3 with LTE support since the LastPass app uses internet connection to authenticate you and then gives you access to the passwords stored in the vault. This is a security feature but can get cumbersome if your particular Apple watch isn't an LTE model or is not connected to the internet via your iPhone.
This is a handy little app that would make sure that you have access to your passwords at all times.
Track Skiing and Snowboarding
This feature is only supported on Apple Watch Series 3 and above.
With this feature in the Apple watch, you can see stats and even find your friends on the slopes. The watch is capable of tracking:
Total vertical descent
Horizontal descent
Number of runs in total
Average speeds
Maximum Speeds
Total time spent
Calories burned
The list of apps you need to keep track of all of the above are:
Snoww
Slopes
Squaw Alpine
Snocru
Ski Tracks
All of this would then integrate with your activity rings and the Health app available on your Apple watch. What isn't a cool way to Skii with digital power?
Tracking Your Heart Rate Without Workouts
If you only use the Apple Watch to monitor your heart rate, then you would know that you are required to activate a workout to do so. But there is a new app that allows you to track your heart rates without working out all day continuously.
There is nothing wrong in activating a workout to monitor your heart rate, but if you are not working out, then this would send false signals to your Activity ring that you don't want. Therefore to keep everything at its place and have the best possible or close to accurate readings on your heart, use the app called the HeartMonitor. It is a FREE app available on the App Store.
With HeartMonitor, you can start a session to begin tracking. The app shows you the time, current beats per minute and average beats per minute. On your iPhone, you can then look at the data in more depth.
Control Your HomePod
If you have added a HomePod into your smart eco-system, then you would be glad to know that now you can control it via the Apple Watch.
Within the Apple Watch app for HomePod, you can also control the music with the help of buttons and increase and decrease volumes.
Ordering Pizza
You can order pizza directly from your Apple watch now. How may you ask?
If your favourite pizza spot has an Apple watch compatible iPhone app, all you need to do is to fire up the app using your Apple watch and then order away your favourite pizza.
Most of the famous pizza spots which offer such apps for the Apple watch, also give you the option to re-order your favourite pizza that you've ordered earlier on. Therefore, saving you the hassle of customizing your pizza right from scratch, saving you time and energy!
The pizza spot that I had tested this with is the Dominos. Rest assured I am not affiliated with them; therefore, you are free to use your favourite pizza shop if they support Apple watch orders.
If you have a special request or want a pizza customized right off the bat, then you are best advised to use your iPhone to do these customizations and then save it in your favourites so that the next time when you want to have the same pizza again; you can just choose it from the saved menu and order it with one tap from your Apple watch.
Open Your Garage Door
Yes, you can even open your garage door with the help of your Apple watch!
The two apps that I have tested are:
I mainly use this when I am carrying stuff that needs to be kept in the garage. With the tap on my Apple watch, I can open and close the garage doors with ease.
The app also tells me if I have forgotten to close the garage door. Which comes in handy, especially when I am away from home.
Both of these support Siri.
Show Your Car Insurance
The Apple watch includes the Apple wallet that is available on your iPhone. What this means is that anything that you store in the Wallet on your iPhone gets seamlessly synced to your Apple watch as well.
I personally use my health insurance card and my car insurance card while keeping it in my Apple watch. Therefore, I don't need to necessarily worry if I am carrying the hard copy with me or not. Since I am carrying my insurance cards with me in my Apple wallet app on the watch at all times.
Stay on Top of News
You can use the News app available pre-installed on your Apple watch to view the top 5 stories that are burning right now. With burning, I meant trending!
This app connects and takes it to feed updates from the Apple News app on the iPhone, and it is indeed a handy way to keep yourself updated with what's happening in the world.
With this app, you can read a short summary of the article and save it for later read. It is not too descriptive on the Apple watch, but realistically it gives you those sharp updates that you require to know what's going on around in the world while you are busy reading this blog article at SmartNutter.com
Shopping at Etsy
Whether you are shopping at Etsy or just browsing for the best valentine's gift for your loved ones, this app on the Apple Watch allows you to see highlighted items. This isn't necessarily the way I personally use Etsy to shop for things but is indeed an easy way to find out how what is available in a particular category and then, later on, I can dig more into the details by using the iPhone once I am relaxed.
Hotel Key
Free apps such as the Starwood Preferred Guest – commonly referred to as the (SPG) lets you tap on your hotel door to gain entrance. If you have gotten this free app installed on to your Apple watch and if you are checking-in into one of the below hotels
Meridien
St. Regis
Element
Aloft
Westin
W Hotel
Sheraton
Then let the person who is checking you in at the desk, that you have got the SPG app on your Apple watch. They would then sync it for your watch to act as the key to your room entrance.
Mute Alerts with Your Palm
If you have an Apple watch and that is active during a meeting or a sleep-in session, you know how irritating it can become for the people around you with all those notification sounds and buzzers. This particular one is for you. If your Apple watch goes off in a place where it should preferably not, you can cover the display with your hand for three seconds or more to instantly mute any new sounds.
How to use this feature?
My Watch
Sounds & Haptics
Cover to Mute
Enabled "Cover to Mute" and you can now mute your watch by covering it with your palm.
Conclusion
All in all, I have tried my best to cover all that I had discovered using my Apple watch. Since I had been an avid user and lover of the Apple products right from the moment Apple launched its first-ever iPhone, I have always gone the extra mile to explore each and every bit of the features that each firmware and hardware upgrade had to offer. Although Apple products can cause a massive hole in your pockets, it is well worth it at the end of the day.
You necessarily do not have to jump the gun and buy each and every product they launch. And in the essence of this article, you also do not need to buy the latest Apple Watch Series 5 for all these functionalities to work. Cherry-pick the ones that you find and feel are best suited in your case and let me know if you found them useful.
As always said, at SmartNutter, my main aim is to smartly convert our dumb, boring life's into smart and efficient living. This applies directly on both the way we live in our houses, apartments, etc. to the gadgets we use on a day to day basis.
After all, the whole purpose of you landing on this blog from google was that you wanted to explore the best possible ways you can enhance your user-experience of owning an Apple watch. And if you liked reading this article and found it to be useful, then head over to the main page of my blog, and you would find similar items where I have covered almost all the latest trends in Smart Home and how to live smartly.
If you enjoyed reading this article then I am sure you would also enjoy an in-depth analysis on whether smartwatches are worth it or not on my blog.
Happy "Jetsons" living people!