It is that perfect time of the year when you are planning on going on a road trip or perhaps hiking or trekking to your favourite spot. Even better, camping! You are all packed and loaded and there, and then you find out that you do not have access to sufficient power to keep the multiple smart gadgets that you are carrying along with you, fully functional and topped up. Well, the least of your concerns at that particular moment in time should be how to keep the power of your smart gadget topped up while out and about in the wanders. For this very cause, not one but a plethora of smart gadgets accessories manufacturers have started pumping out solar panel powered battery packs and banks that claim to provide you with enough juice to last for days since the power is ultimately being drawn from the sunlight. Well, what we are going to discuss here is, are they actually worth it? Stick around to find out.
When I first heard about these solar-powered power banks, I was a bit sceptical, and immediately it caught my attention to try one out myself. I am not going to purposely promote that product here since there are now one too many solar panel power banks available in the market. You can easily bag a good deal on one from Amazon and or any of your favourite online shopping sites yourself.
Let us agree to one thing, summertime is the only time of the year when people love to travel! Period. And with the growing number of smart gadgets that people now carry on with them during these outings and breaks is growing day by day. It is altogether more logical that people are now worried about carrying a backup battery source for their trips. But the dilemma here is, that all of these standard and ordinary power banks also come with a limited amount of charge that they could carry on them. After which you are again left with a brick looking device that has no juice left since you sucked out each inch of its energy during your camping.
Quite frankly, not all of the power banks that are available in the market are bad! There are quite a few reputable companies out there that are pushing out products that fall in this particular niche that are using state of the art technology to retain charges up to 200 hours. But is that sufficient? Is that really true? I would be going through each and every aspect of how decent or indecent these chargers are and how the solar panel power banks have revolutionised your gadgets juice-topping-up mechanism to its fullest and are totally worth your investment!
What Is a Portable Solar Power Battery Pack?
What part of the question doesn't give away the answer! To be honest, these portable power banks are already there in the market and are there for almost a decade now. The only difference between a traditional power bank and the solar-powered power bank is that latter uses solar energy to charge itself while the regular versions use a standard wall-charger hooked up to the gadget to accumulate the charge.
Both of these gadgets use similar technology to hold the charge. And eventually, use the inbuilt inverter technology to deliver it. An inverter converts a DC (Direct Current) into a usable AC (Alternating Current).
To use a power bank, you are typically provided with a USB port and to charge any device; all you need to is to hook up the device using its USB port into the socket provided on the battery.
How Many Types of Portable Solar Panel Power Banks Are Available
First and foremost, let us understand how many types of portable solar panel based power banks are available out there in the market.
a. The Fold-up Belt Solar Panel Power Banks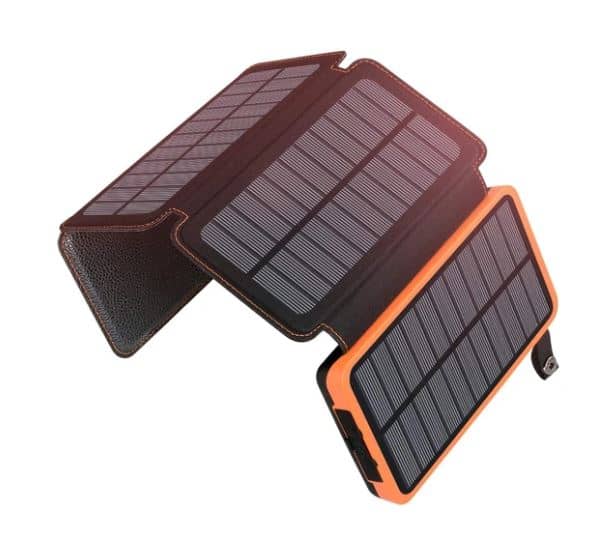 For this particular example, we would be considering the product that I had initially tried and tested. The FEELLE Solar Charger HI-S025. Hands down one of the best investments you could do when it comes down to carrying enough juice for your smart gadgets while outdoors. They use state of the art technology to back their devices and by far is the BEST fold-up belt solar panel power bank out in the market today. Let us get down to the nitty-gritty.
It is packed with
High Capacity
25,000 mAh solar power can be used for up to 2 weeks once it is fully charged. It is very much capable of charging your phone from 0 to full up to 12+ times. Which, in my opinion, is something that explains the whole essence of carrying a portable charger with you. This kind of power is ideal when you are out and about camping or doing chores which requires you to remain out from your home for days and when nearby power outlets are not possible.
With the given power capacity available to us during our camping, the wife and I were able to derive out the below conclusions
Recharge an iPhone 8 for about 10+ times
Samsung S6 for about 6.3+ times
iPad Mini 4 for about 3.3+ times
These all readings are independent and please do not hold us for a ballpark figure. Ideally, you should be able to get the same level of juices for each device. The above doesn't mean that you can recharge all the 3 above-mentioned gadgets in a total of 20 times. A whole 25,000 mAh juice can repeatedly charge each of the bullet points above and not mix and match. Hope that made sense!
As per my personal experience, it took my Apple iPhone 8 to charge from 20% to 100% in approximately 100 minutes.
Equipped With 4 Dedicated Solar Panels
More solar panels, more than solar energy the plates can absorb and faster the power bank would top itself up. Simple maths right there for you gents! FEELEE claim that with their 4 dedicated solar panels, the device would recharge itself 4 – 5 times faster than any ordinary solar charger.
The required time for a complete 24,000 mAh battery that comes installed into the device to be fully topped up is approximately 25 to 30 hours given that the solar plates are exposed to the solar energy. Preferably during the day time. This was a perfect fit for the family and me as most of the time, this gadget used to lie on top of our SUV's dashboard during camping. Talk about enough solar energy!
Embedded Flashlight
Right on the battery cover, there is a dedicated flashlight embedded directly onto the frame. This is a great handy light that can be used for both spottings and even shedding light onto important topics at night. *cough*
There are 3 dedicated modes to the Flashlight on the FEELEE Solar Charger HI-S025:
Long press the ON/OFF button to turn the LED flashlight to ON.
Press the ON/OFF button again, and on each tap, you would have different modes to the flashlight. 1)Steady, 2) SOS, 3) Strobe
Long press the ON/OFF button again to turn the LED flashlight to OFF.
Product Specifications
Battery Capacity
25000 mAh / 92.5 Wh
Solar Power
5W / 1000 mA
Battery
Li-Polymer Battery
Input
5V 1.8A (MAX)
Output
USB 5V / 2.1A
Folded Dimensions
3 Solar Panels
6.1 x 3.35 x 1.37
Open Dimensions
13.9 x 6.1
Total Weight (With Solar Panels)
538g / 1.18 lb

Packaging Includes
1 x 25,000 mAh Solar Charger
1 x USB Charging Cable
1 x User Manual
Other Features
It comes with dual 2.1A USB ports. Which can be used to recharge your gadgets simultaneously.
It is waterproof. With IPX65 rating. The whole device comes with a waterproof cover that is sufficient to sustain rain and other water ingresses.
The device is somewhat shockproof and comes covered with artificial leather.
Four colours are available. 1) Orange, 2) Blue, 3) Red, 4) Black
This device has been manufactured in China and by Dongguan Jili Intelligent Technology Co., Ltd.
Verdict
A must-have for any camper or those who are out and about for days. You don't need to worry about running out of juice, and all your gadgets can stay topped up. Thanks to the FEELLE Solar Charger HI-S025.
b. Traditional Portable Solar Panel Based Charger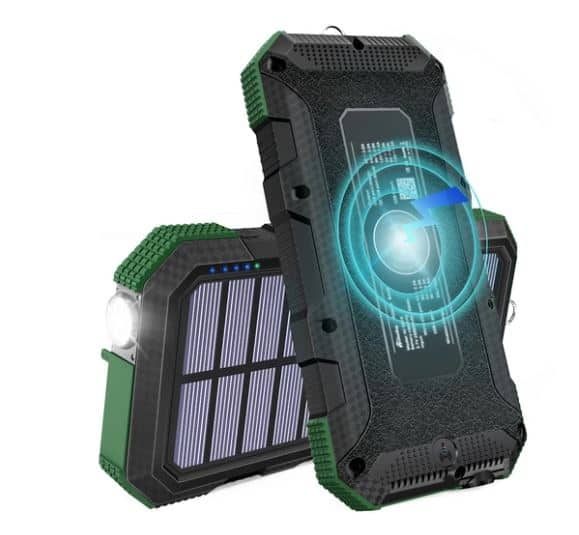 The second design under discussion is a conventional portable power bank. But with a twist? It comes embedded with a solar panel on top of the device and boy-oh-boy, you would be pleased to know what a punch it packs.
Both the devices (rather it be the solar panel blades) and this one, harness the energy from the sun and convert it into electricity. The explanation couldn't have been more straightforward than this now, isn't it?
High Capacity
The device comes packed with a 24,000 mAh capacity. It can charge your phones as best as a standard wall charger would.
If you are the owner of the latest Apple iPhone 11, then you would be pleased to know that it can charge it almost over 7 times.
A Samsung Galaxy S10 can be recharged over 6 times.
An iPad Mini over 3 times.
Wireless Charging
Yes, sir! This gadget is equipped with wireless charging technology as well. No-no, don't think that wireless charging will hurt your expensive equipment. A list of compatible models that support wireless charging and have been tested on this particular brand is
iPhone 11, iPhone 11 Pro, iPhone 11 Pro Max, iPhone XR, iPhone XR Max, iPhone XS, iPhone X, iPhone 8 plus and my very own iPhone 8.
Galaxy S9, Galaxy S9 Plus, Galaxy S8, Galaxy S8 Plus, Galaxy S7, Galaxy S7 Edge
And many other devices that support the wireless charging protocols.
Quick Charging
Equipped with an 18W Power-Delivery (PD) and a QC 3.0 charging technology, it offers Fast-Charging capabilities.
USB-C Charging Port
If you ever want to charge your portable power station using a regular wall-charger, then this device gives you the option of doing so. Just get hold of a PD-Adapter and walk away with a fully charged battery pack in under 7 hours.
As far as the interfaces go, you can connect virtually any charging cable to the USB-C Charging port provided on the gadget. Peripherals such as your MacBook and MacBook Pro can also be connected directly to its USB-C port, and your MacBook would be topped up to 100% juice in approximately 3 hours.
Embedded Flashlight
Just as the solar panel based model of FEELEE, this model too has a flashlight embedded right onto the device. You can even send out SOS light signals using the inbuilt feature by pressing the buttons on the battery pack.
Product Specifications
Battery Capacity
24000 mAh
Solar Power
1.8 W
Input
Two-Way Quick Charge Type-C:
12V 1.5A / 9V 2A (MAX) 18W
Output
QC 3.0 USB / 9V 2A
Port
Micro USB 9V 2A MAX (18W)
Material
ABS
Product Size
176 x 90 x 30 mm
Packaging Includes
1 x Solar Charger
1 x USB Cable
1 x User Manual
1 x Carabiner
Other Features
This power bank is equipped with 3 High Speed Charging Ports.
Out of which, 2 are standard USB ports, and 1 is a USB-C charging port
Professional safety guarantee comes along with the device.
It also has a High Sensitive Compass and an SOS Warning Lamp.
A must-have for anyone who loves to spend times doing outdoor activities.
It is compatible with all USB charging devices out there.
Related questions
A list of relevant questions that may arise after having read the above article is:
What is a Power Bank?
Put simply, power banks are individual devices that comprise of special batteries encased in a special case with a special circuit to control the power flow within. This tiny piece of equipment allows the users to retain electrical energy (charge) and then use it, later on, to charge their own phones via the USB port provided on the power bank.
Practically and virtually anything that can be charged at your home using a USB cable can also be charged using a portal power bank while you are away from home.
Can You Charge Your Phone and The Solar Power Bank At The Same Time?
The answer is "Yes". You can recharge your smartphone and your solar power bank at the same time. Thus fully utilising the sunlight while your connected gadget is being topped up.
How to Detect a Fake Solar Power Bank?
Many people have been put out of pocket for buying fake products. And in reality, fake solar power banks are no different. Before you head over to buy a portable solar power bank that is different from the ones mentioned in this article in detail, I highly recommend you follow the below guidelines.
Do you have a clear understanding of what exactly is it that you want to purchase?
What is the mAh or Ah?
What are the rated capacities that are labelled on the product?
Ensure to find out if the product you are about to buy has a user manual backed with it.
How many times can this particular power bank charge your phone?
How long would it last for?
Look out for the quality certification present on the device you are about to buy.
Can you easily trace out the sell or the company if you do a quick google search?
Is the warranty provided, correct? What about a product code? Can you claim your money back if it doesn't work?
Carefully investigate the brand name! Is it just a simple dropshipping store or site? Or is it a proper product backed with reviews across the internet. Google is your friend!
What does mAh mean? Also Amp, Voltage and Watts?
A clear and straightforward answer to these acronyms is
mAh – (Milliamp Hour) – Is a unit that is used to measure the electric power over time. It is widely used to measure the energy capacity of a battery present in a particular gadget.
Amp – (Ampere) – is a unit of current. Amp is widely referred to as the energy rate at which your device is being charged from your portable charger.
V – (Voltage) – Voltage is a gauge through which the energy pulls into the charging device. If the voltage is too high, you might end up frying your device.
W – (Wattage) – Wattage is a measurement of the amount of work the electricity is doing. It is used to quantify the energy used or needed for an electric device to function correctly.
How Long Does a Power Bank Last? How Durable Is A Power Bank?
The life of a power bank widely depends on the number of charge cycles it is equipped with. You can easily find this out from the products specifications page. If that information is not available, you can always contact the manufacturer or their support team and request this information. Usually, a power bank would last for a good 1 to 1.5 years given if it following the 500 charge cycles routine.
Majority of the high-end power banks are usually equipped with robust and high graded materials that are both shockproof and military drop tested. So it is always advisable to pick up one that has a certification label affixed onto it. Needless to say, portable power banks are quite durable and dropping it a few time will not wreck the device. Unless it is a 100 ft. drop.
How Long Does It Take For a 10000 mAh Power Bank Take to Charge My Phone?
To understand this, let us first understand what 10,000 mAh is?
10000 mAh = 10 A-h (Ampere Hour)
Which theoretically means that it could power something that draws 10 A of power for 1 hour. Clear?
Give you have a mobile phone that you hook up to your portable 10,000 mAh power bank, and factoring in that a standard portable power bank is designed to charge gadgets at 5 Volts at a given Ampere. Therefore for a smartphone with a battery capacity of 2,500 mAh, you can, therefore, expect it to fully charge to a 100% in approximately 2.5 hours for 1A and 1.25 hours if the current drawn is 2A at 5 volts. You can find out the current draw from the technical specifications page of the portable solar panel power bank that you are about to purchase.
What Capacity Should You Buy?
This all narrows down to your personal preference. But by a general rule of thumb, you should always opt-in for 3 times the size of your smartphone battery as a right power bank to be carried around. So let us assume you have the latest Apple iPhone 11 Pro Max uses a 3,046 mAh battery than by following the 3X rule you should aim to buy a portable power bank of 10,000 mAh from a reputable manufacturer. As the effective mAh on the battery could be a lot less if you buy a power bank that has no industry standards and follows no best practices.
How to Charge Solar Power Bank – charging with Electricity or Solar Panel?
Charging a solar power bank with electricity is the ideal way of juicing up the gadget. This is because when you are at home, you do not necessarily need to use the solar panels to charge your portable battery pack. In addition to this, loading it using your wall-charger is the fastest way of accumulating the charge as compared to charging it out in the open while you are at home.
The solar panel feature is essentially a break taking feature of these portable juice packs. Since it allows you to recharge your battery pack without the need of a wall charger.
Charging your solar power bank at home with a wall charger is as smooth and efficient as charging your own smartphone at home.
How Long Will It Take To Charge a 10000 mAh Power Bank Using Electricity?
Given that your wall charger's output is 2A, then a 10,000 mAh power bank would charge in approximately 3.7 hours.
And if your wall charger's output is 4A, then a 10,000 mAh power bank would charge in approximately 1.85 hours.
Both of these are applied using industrial standard wall-chargers and not those cheap knock-offs.
Conclusion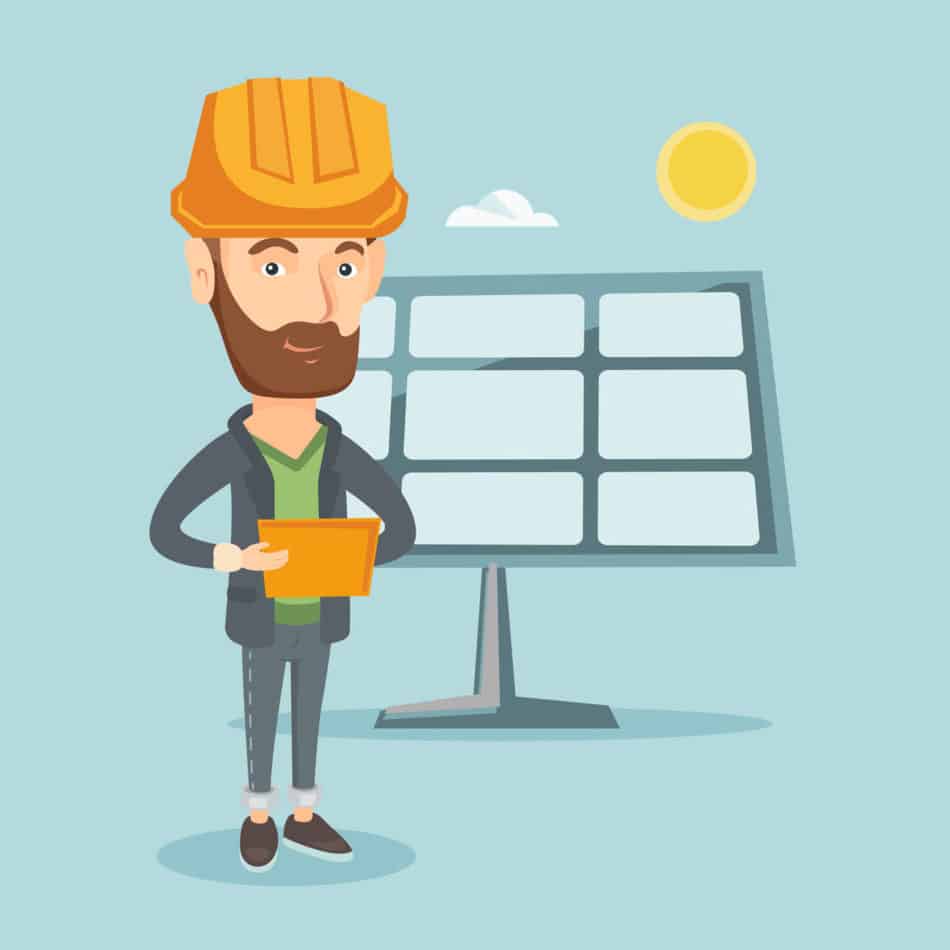 You need to ask yourself, what is the WORST thing that can happen to you while you are outdoors? Well, not "WORST worst". But the most annoying? For a significant number of us, it is when our smart gadgets run out of battery! Stuck in the middle of nowhere with no access to standard wall chargers and electricity, the only possible way out is to either drive to your nearest gas station and convince the local management to let you hook up your wall charger to their plugs! Nah, that is not practical if you are carrying more than 1 gadget and that too in a scenario if the other person agrees on letting you do it.
The power banks came into birth to attend to this particular problem. These nifty devices can store emergency power on them and help you power your device and also charge them quite a few times before they need to be juiced up themselves. So for the naysayers, no this isn't just a novelty device and is a must-have if you are a regular backpacker or someone who likes to sneak away for a quick day or two of a holiday out into the wanders!
Happy "Jetsons" living people!