Before I ever bought my Ring doorbell for my smart home, I always feared what if the battery runs out and I am left with an unattended guest. What if the battery becomes weak and I end up not being able to open the door to my friend who has come to drop back my Xbox. And the worst was how much do I continuously need to keep on spending on them batteries to make sure the Ring Doorbell remains operational.
So, how long does the ring battery last you may ask? Well to my amusement, the ring battery lasts for minimum six (6) months and can last up to twelve (12) months. But do not forget, Ring doorbell batteries can be recharged whenever they die out and hence you are left with a device that is both powerful and economical.
If you want to go battery-free with your Ring Door Bell entirely, then another option is to hook up solar panels to your doorbell. This would eliminate the factor of having the need to recharge your batteries when they go weak, or heck even runs your device constant worry-free since you know that the batteries are continuously kept at full from the energy provided from the UV light. A win-win situation I must say. If you are interested to know more about which solar panel is the best for your Ring Doorbell then bookmark SmartNutter.com as I would be writing an article and reviewing different Solar Panel products soon for my readers.
The adoption rate and trend of these smart doorbells have been on the rise lately. I being one of those who have deployed the Ring doorbell at my door front, I have keenly observed that 3 out of every 10 houses on my street are fitted with these doorbells. It would be safe to say that the reason behind this is the kind of mobility, value-added benefits and the security that comes along in this Doorbell is close to no other device that is available in the market. You can seamlessly communicate with your Ring Doorbell using your smartphone, and you have the ability even to check the status of your device and also watch live-feeds from the camera affixed onto the Ring Doorbell. More about it down in the article. By the deployment of any smart devices, comes a risk. That risk is to safeguard your assets from unauthorized personnel. Yes, you guessed it right. The Hackers! Click here to read my article on how you can protect your IoT devices from them.
So now if you are from the future and have actually got your hands on a more advanced version of the Ring doorbell that doesn't require a battery, what are your best bets to make sure your device functions at its peak performance? And how about people like me who are using the Ring Doorbell versions which are using a battery to power the device; I discuss in detail how to enhance the battery life, maximise its potency and keep your equipment in the best shape possible.
Various types of Ring Door Bell Models
Ring initially manufactured the below two Ring Doorbells
These models were the only ones that had the battery installed in them to power the device up. The battery life on each of these devices varied greatly basis a lot of constraints such as the way they are installed, the surroundings, the temperature in the area where these doorbells are installed and much more. But in the higher essence, the battery life on both of those doorbells was short to almost 1 year with six months being the minimum, after which the device's battery needs to be recharged for the device to operate yet again.
With the continuous advancement and development being done in the tech centres of the Ring company, they have now come up with two additional devices that do not require a battery to function and are hardwired with great ease for you to use them right out of the box and without the fuss of having weak batteries and whatnot. These models are
The predecessors to the Doorbell Pro and Elite could work out of the box and function on the battery power, but the advanced versions of these models require hardwiring to be done and do not require a battery to function.
The video doorbell pro comes with advanced motion detection that can be used to set up alerts and triggers based on sensitivity in a pre-defined area. This is an added feature that came along in the Ring Pro and the elite versions which were not present in its subsequent editions.
Both the Ring Video Doorbell Pro and the Elite versions are PoE (Power over Ethernet) capable which means you just need to plug the device into your Ethernet plug if you have one at home, and the device would be power itself without the need of running extra power cables to these latest devices. If you do not have a router that is PoE capable, then hardwiring your Ring Doorbell is your only option. Just connect the device via Wi-Fi to provide it with internet connectivity, and you are good to go. Then it all narrows down to you configuring the device using your smartphone and voila, your equipment is up and running.
Do you require special wiring for Ring Doorbell?
The answer is "NO". Both the Ring Doorbell Pro and Elite do not require any extra wiring. These can be hooked onto the installation that is already present on your old doorbell. As simple as it sounds. Even better, if you have a PoE interface on your router, then you do not also require electrical connections. The power from the LAN cable on your PoE interface is sufficient to fire up the device and make it functional in less than 5 minutes. So now you need not worry about taking permission from your landlord to hookup the doorbell.
But on the opposing side, if you are a landlord who sublets their apartment for shorter periods; then you may be in a mess here. Since both the Pro and the Elite edition requires to be continuously reset and configured to the requirements of your new tenants. This altogether is a different ballgame on its own, and I wouldn't debate much on it in this article. Similar is the case with smart locks. I have an extensive article written on how smart locks are operated and what are the risks involved in setting them up in apartment type buildings.
How to Monitor the Battery Levels on Ring Doorbell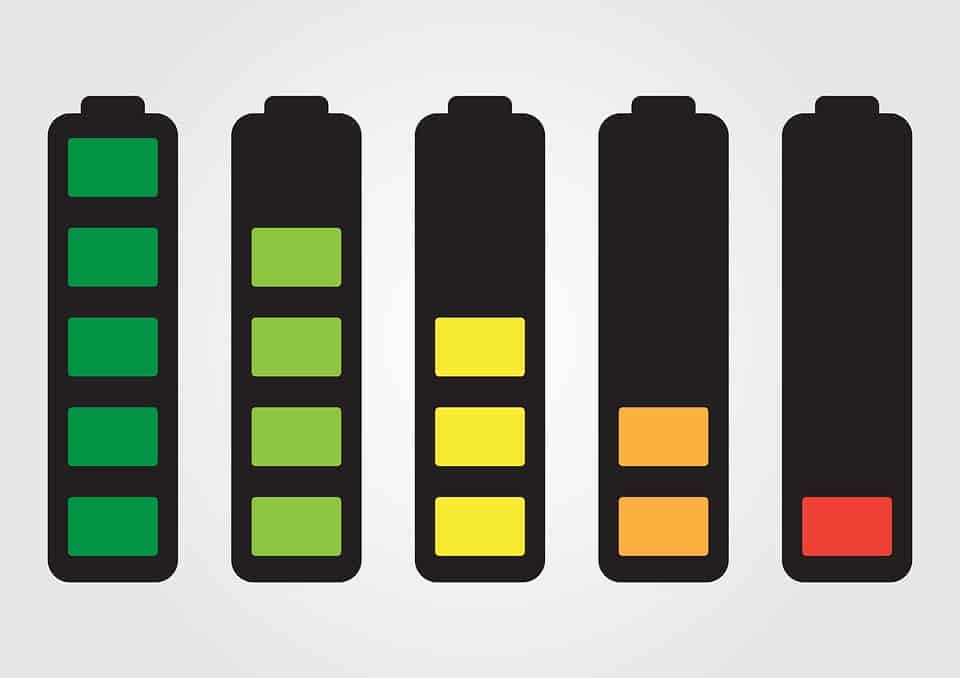 This can be flawlessly done via the smartphone app that this doorbell comes along with. It is just as easy as firing up the app and checking the status of the battery on it. Life couldn't be simpler than this!
The very exact steps to see what the battery life using the app are:
If you have multiple Ring products, then navigate to "MY DEVICES" menu and choose the relevant product (doorbell) in our case
Once you have selected the correct doorbell, just at the very top-right corner of the screen, you should be able to see the battery level. Voila!
If you want to find out exactly where your battery is standing right now, then right on top of the battery image, there is a "cog" icon. Just tap on it to get a detailed view on how your battery is performing and what level it is at.
How Long Does It Take To Fully Charge the Ring Doorbell
A straight forward answer is
Five (5) to six (6) hours
The main difference between the Ring Doorbell's first edition and the Ring Doorbell 2 is that the second version had a slide-out battery. First 1st edition required you to dismantle the device, and bring it into your home and hook it up with your computer using a micro-USB cable to charge. But with the Ring Doorbell 2, all you have to do is to remove the front panel on the device and slide the battery out. Similar to the battery concepts that are implied in the DSLR or the infamous video camcorders. Just plug this removable battery onto a micro-USB cable, and in about five to six hours; you should have a peaked out battery that is fit to be used in the Doorbells. The Ring Doorbell 2 comes with a hefty 6,100 mAh battery capacity and "no" there is no option of fast-charging available. You need to give it five to six hours for it to reach its peak.
Another added benefit of the Ring Doorbell 2 is that you can always buy spare batteries and keep them aside. Ensure to follow best practices to retain the battery's life by not keeping it idle for months before you use it. If you are planning on not using your battery for a more extended period, then it is best to deplete the charge that is present in the battery and not charging it till the time when it is actually required. These spare batteries to the Ring Doorbell 2 are quiet inexpensive and go out for about $20.
Be wary not to let your battery on the Ring Doorbell drop below 10%, as the charging time can then take up to a whopping 10 hours in such cases.
Can You Replace Ring Doorbell Battery
In case your battery completely dies out, all you need to do is follow the steps below to ensure that you are up and running with the new replacement battery installed into the device.
This is applicable on Ring Doorbell 1
Steps
Undo any security screws that you have on the device
Remove the doorbell from the wall by sliding it off carefully
The best place to do the post-removal process is by bringing in the dismantled equipment into your home.
Since the batter on this particular model is located in the back of the device, get hold of a screwdriver and unscrew everything from its end. You might need an even smaller screwdriver to ensure you get hold of those mini-screws that show up once the main casing is off to replace the battery.
There is an aluminium cover that can be seen once you unscrew everything. You would need to exert some force to remove this cover but be careful not to apply too much force as you might end up wrecking it.
Once the above steps have followed to the "T", you can then see a plastic box in which the faulty battery is residing. Use any plastic tool to pry it open and just replace the old battery with a new one. Now buckle up, and start putting all the screws back into their place and fix that Ring Doorbell and bring it back to life.
Either you just took out the battery on this 1st generation Ring Doorbell to recharge it or to replace it, the process requires you to dismantle the device and follow the 5 steps above to ensure that the battery is back to its original state to function. You would then again need to hook up the device to your wall and connect all the required cabling for it to work still. This is a bit of a hectic job on the 1st generation models, but beginning Ring Doorbell 2 and beyond; this issue has been mitigated due to constant consumer feedback to the Ring Company. Job well-done Ring!
Does the Ring Doorbell Charge Itself
This applies to Ring Doorbell 2 and above models only. If your Ring doorbell is hardwired, then the batteries would continuously be recharged, and you wouldn't need to slide them out to recharge them. But if it is not hardwired and the source of power to your device is reliant solely on Batteries, then you would need to slide them out and recharge them every five to six months.
How's The Video Resolution on the Ring Doorbell
The video resolution table is below for your easy references and read
| | | |
| --- | --- | --- |
| Ring Doorbell 1 | Ring Doorbell 2 | Ring Doorbell Pro |
| 720p | 1080p | 1080p |
As far as the video resolution goes on each of these doorbells, the quality is quite up to the mark. The video that gets streamed from either of the cameras is bright and has enough clarity to identify who is at your doorstep. Connecting your smartphone to the camera is a straightforward process, and you can be up and running in no-time. These doorbells come with a two-way microphone that allows you to communicate with your guests flawlessly. The sensitivity on the microphone at large is very satisfactory.
The motion detection on the Ring Doorbell in my experience is better than all the other doorbell manufacturers out there. It will only alert you if someone is actually in front of your door, which is an excellent thing of its own. So no false alarms there!
The privacy policy of the company Ring can be found here
Difference between Ring 1 vs Ring 2 vs Ring Pro
The chart below is self-explanatory and should serve as a fundamental feature difference between each of the models. I would leave it to you to decide and finalise as to which one suits your needs and pocket.
| | | | |
| --- | --- | --- | --- |
| Model | Ring 1 | Ring 2 | Ring Pro |
| Video Resolution | 720p | 1080p | 1080p |
| Power Source | Battery or Hardwired | Battery or Hardwired | Hardwired |
| Field View | 180° Horizontal 110° Vertical | 160° Horizontal 90° Vertical | 160° Horizontal 90° Vertical |
| Avg. Time to Install | Approx. 5 minutes | Approx. 5 minutes | Approx. 15 minutes |
| Wi-Fi Connectivity | 2.4 Ghz | 2.4 Ghz | 2.4 Ghz & 5 GHz |
Technical Details on Ring Doorbell are as of below
| | |
| --- | --- |
| Operating Conditions | -5°F to 120°F (-20.5°C to 48.5°C), Weather Resistant |
| Warranty and Service | 1-year Limited Warranty |
| Power | Battery-powered & Hardwired. Ring Pro (Hardwired) only |
| Motion Detection | Basic |
Is the Quick-Release option only available in Ring Doorbell 2
Quite sadly, yes. The first generation of the Ring Doorbell had the battery built deep inside the chassis and required a bit of work and elbow grease to pop it out to recharge or replace. But with the 2nd generation and onward products manufactured by the Ring Company, the quick-release button has been deployed, and the batteries can now be easily replaced within a matter of minutes.
Some other Ring products that have the quick-release feature are
Where the Ring Doorbell Should Be Installed On The Wall for Best View
The ring doorbell regardless to which generation you plan on buying should be installed on the exterior wall of your house right next to your door and at chest-height of an average height person. If the doorbell is mounted too high or too low, then the image captured by the camera on the Ring doorbell wouldn't be providing us with the feed that is required, and the motion sensor is ought to miss out on the movements that would otherwise have been captured if followed the best practice of installation.