There is no specific time as to when you would want to upgrade your boring old, same layout based, standard dorm room. But given the fact that landed on this article of mine; shows that you are now ready to hop onto the journey of converting your old dorm room into a smart room. Fret not, all the suggestions that I have made in this article are cost-efficient and would not break the bank or burn a hole in your pocket. So get ready while I take you through 11 ultimate ways through which your dorm room would stand out from the rest of the rooms on your campus. And be prepared for people flooding to see your place. You would have all the reasons to boast off after you follow my advice below.
So, let us first take down a list of everything that you need in your dorm room at the beginning of the year. The list could be exhaustive based on individual circumstances, but the essential ones are
TV
Laptop
Printer
Linens & Laundry Supplies
Office & Desktop Supplies
Toiletries
Clothing
Household & Kitchen Supplies
Room & Storage Needs
This list would also serve you as a necessary reminder each time you are packing your stuff to move it back to the dorm after a long summer break or at the beginning of the new freshmen year. Whatever the scenario is, these are the essential bits that make any dorm room amongst hundreds of others in the campus.
Now, what if you want to stand out and have the best smart dorm room on the campus. You would need to have that extra gear that would make you a hero and word of mouth is, the one with the most beautiful dorm room is crowned the king – Obviously, this was a joke! You never know.
I wish I had access to these gadgetries and smart devices back in the days when I was a college student. The trouble of getting up and switching off lights right before I hit the sack was the worst. I barely had any energy left as soon as I used to enter the room, let alone doing all the cooking, dishwashing, cleaning etc. It always was a mess to keep a track on what was the schedule on my classes for the rest of the week and what Rota system was being followed for house-cleaning etc. All in all, it was a cumbersome process to keep a track on things and keep them aligned in a notebook so that I could look into it to find out what I was supposed to do next. This all used to cause additional stress on top of being homesick and let's not forget, the stress of studies and cramming up for the exams.
With the invent of technology, I now present to you the top 11 gadgetries that would not only help you do the chores and tasks that otherwise are boring, but also give you the feel of being home. Therefore the only thing then you would need to worry about is your studies. Fasten up, people! The smart home concept is applied at the dorm level here at our blog SmartNutter.com, thank you very much.
What are Smart Dorm Rooms?
I am glad you asked. I thought you never would! A smart dorm room is just like an ordinary home automated solution where you pick up gadgets that are meant to perform a specific task and do it in an automated way and fashion. Smart lights, sensors, security cameras, door locks and much more is involved in converting a dumb dorm room into a stylish smart room. But at the end of the day, it entirely relies on each individual circumstances as to what they prefer to have installed in their dorm rooms and are confident with.
For students, the whole process of having smart devices around them in their rooms provides them with convenience, comfort and fun while they away from their home. On the other hand, it gives their parents a little bit of extra peace of mind that their children are in an environment which has an extra layer of security with the use of these devices.
Smart devices and suggestions that would help you stand out
A dorm room is mostly a home that is away from your actual home. Hope that made sense! To further dwell on this topic, let me take you through 2 essential gadgets that would allow you to have a good night sleep while making sure your property is secure when you are in a class or far away from your room.
Adding a smart lock to your dorm room helps immensely
As soon as you move into your new dorm room, your first and foremost priority should be getting that door lock replaced with a smart-lock. Why? A smart lock replaces the conventional dead-bolt lock on your dorm door. It has a configurable keypad that allows you to connect it wirelessly to your smartphone app. Having this in place, gives you the control to lock and unlock the door whenever you want just by using the app it came along with. You can also monitor who enters and exits your dorm room using the smart lock. With a smart lock in place, you can efficiently set up schedules on it to lock the door at a specific time. Always forget to lock your door when you run for your next class? Worry not; you can remotely lock your door with this particular gadget.
Heck, you can even configure dedicated passcodes onto the device which you may then hand out to your colleagues and friends whom you want to give access to your room. Be careful though, since this particular move can put you in trouble as each dorm has their dedicated visiting hours and violating those could harm your good standing with the campus administration.
Adding cameras into your dorm room for increased security
If you plan on going complete James Bond, then my best advice to you is to have Wi-Fi security cameras installed in your dorm room. All you need to do is buy one and hook it up with your internet connection. This would then give you the liberty to watch, hear and record each and every movement that takes place in your dorm room in your absence. Scary!
A smart Wi-Fi security camera gives you the option of keeping an audio and video log on what it records. Almost all of the branded Wi-Fi security cameras come with easy built-in integration modules to Amazon Alexa and Google home. This gives you the ability to control your camera using voice commands. This is only possible when you are in the room.
The stream quality on these cameras is a standard 720p. Some high-end models also give you the flexibility to stream the video on a 1080p codec frame.
Adding smart lights into your dorm room
For any dorm room, a smart light is a must-have. These lights connect seamlessly with your smartphone apps and allow you to toggle them on and off when needed. You can even set schedules and timers on these lights so that you save on those additional utility bills when you run out for your class forgetting to switch off the lights in your dorm room.
Even better, these smart lights also give you the option to change their colours as and when the mood strikes. You have the opportunity to also set the intensity on these lights to provide you with the warmth feeling or if you need that tad bit of light when you are about to sleep.
And yes, you can connect these smart lights to your voice assistants such as the Amazon Alexa or the Google home if you are a voice-command fan. The Philip HUE model comes with almost 16 million colours so let me assure you, you wouldn't be able to get that right colour of the light which you always wanted in your bedroom at home. You can also sync these smart lights with your smart TV's so that when you play a movie or music, the lights also sparkle along with the rhythm. Talk about having your very own dance party in your very own dorm room! Who needs to go out partying on Saturday's, isn't it?!
Always carry your Wi-Fi router with you
Not just any router, you should always get the most robust router for your smart dorm room. This allows you to remain trouble-free in terms of connectivity and speeds. We all know the dorm internet sucks! Well, in my case, it did. Sometimes due to the weak signals or poor reception. But this can now be entirely mitigated by the use of a Mesh Wi-Fi router that you can install in your dorm room. This gives you the flexibility to use the internet at the best possible speeds and provide you with a 100% complete Wi-Fi connection.
Since almost all of your smart devices that you are reading in this article at SmartNutter, require an internet connection; therefore, it is vital to use the most reliable router. This also gives you the flexibility to stream videos, watch Netflix (in a controlled way) and upload homework without the fuss of having a weak and unreliable connection.
Mesh routers greatly help to envelop your complete room with the strongest Wi-Fi signals thus eliminating the requirement for the use of an additional access point or a repeater.
Mesh routers come in dual-band supports. So those of your devices that do not have a 5 GHz connectivity interface, you can always hook them up to your router via the 2.4 GHz frequency. Voila!
Bluetooth Mini-Trackers for your Smart Dorm Room Equipment
Scared of misplacing or losing your expensive bag? Then this particular gadget is a must-have for you. You can hook these up to your most precious items and track them using your smartphone app in case they ever get stolen or misplaced.
Some of the latest Bluetooth trackers also have the feature to take snapshots with the help of the smartphone app.
How about a voice-assistant?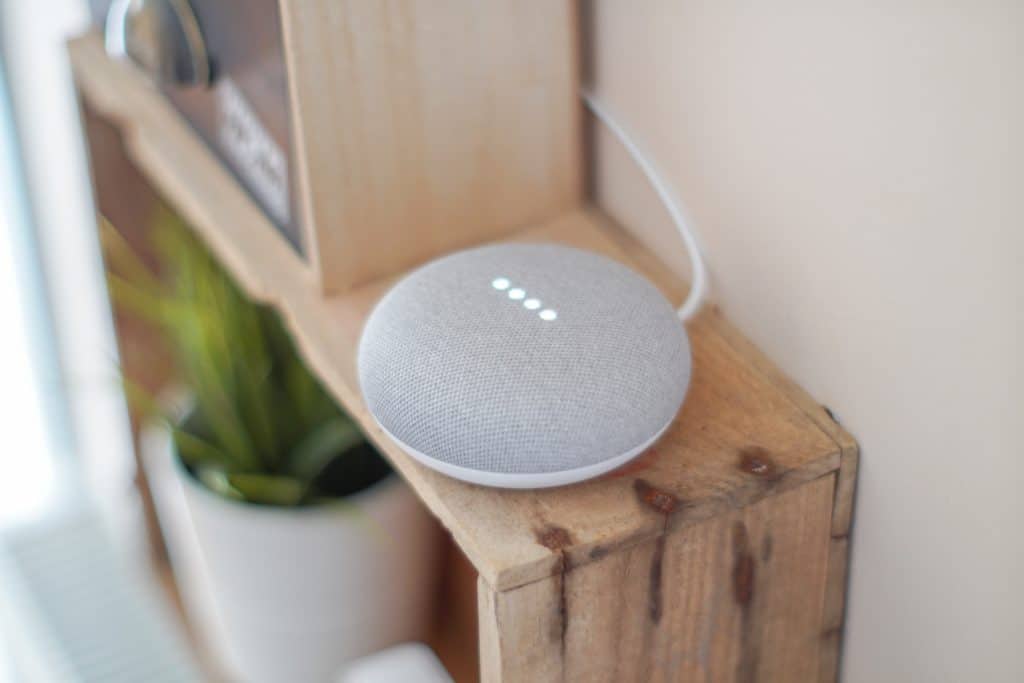 Do not want to sound like a cheesy sales guy here, but since I have caught your attention with this particular headline. Not every day is a study day. A fair amount of downtime is always advised when studying all week round. Get your hands on a smart voice assistant such as the Amazon Alexa or the Google Home and hook them up with your favourite smart gadgets that you have picked up for your home.
Now grab a cup of your favourite hot drink, and slide into the bed while commanding out to your beloved voice assistant to play your favourite music on the smart speaker or the smart TV that you have in your space. Now ask your voice-assistant to dim the lights and enjoy the rest of your evening without the need of getting up from your bed. Since you already have the smart-lock in place, might as well ask the voice-assistant to lock your door and your lights to be dimmed, while you go to sleep. I envy the days!
Smart-Garden is the new mood enlightener
Always thought of harvesting your own flowers and strawberries? Or if you were too sad to not being able to carry your favourite cactus along with you to your dorm room? Then get your hands on a smart garden.

These devices have got built-in sensors and use vermiculite that helps you keep your plants in the top shape and health. You would never forget to water them again with the help of alerts and sensors built-in into the framework of the device. The vermiculite used to grow your plants keeps you away from the unnecessary mess and provides complete nutrition to them.
The whole device connects to your Wi-Fi router and sends you notifications as to when you need to come and have a look at your favourite plant in its harvesting stages.
You can virtually grow anything in these pods, and these are by far an excellent smart gadget that would make your dorm room stand out from the rest on the campus.
Smart plug to turn off your expensive gadgets
The most efficient way to convert your dorm room into a smart room must have a smart plug installed in it. This is a straightforward plug and play device that hooks up to a normal wall socket. Any device that gets connected on top of it then can be toggled on or off with the help of the app installed onto your smartphone.
The bandwidth that these gadgets use is close to none. Click on the link If you would like to read more about how much bandwidth do these smart device use. You would be amazed to find out!
Enter the Future: Smart Vacuums and Robo Mops
If you have a family member coming over to visit you in your dorm room, or a friend even; then we all know that the frenzy of taking the extra effort to pretend looking neat and tidy is our top-most priority. Same applies to our dorm. Hey, I am all in for the fact that your downtime shouldn't include mopping or vacuuming. After all, it tends to get a lot more hectic during busy semesters, and often one forgets to do the housekeeping. Fret not, get yourself once of those fancy smart vacuums, and you are golden. Just set them up and fire away. In no time you would have a clean room with no residues and spills to be seen anywhere. Thank you technology!
Smart Microwaves for those busy days
Almost all of the days of a student are busy! At least mine was. How cool would it be to have a smart microwave heat your food as soon as you are done with your class and rushing back to your dorm room just for a few minutes? You'll be glad to know that smart microwaves are there to rescue! Just put whatever you feel should be heated into it, and control the microwave using your smartphone app right from your classroom. As soon as you reach your dorm, your food is now hot and ready to be eaten.
Smart Clock running your favourite music
Bored of that same old tick-tock noise and sound? It grows on you. Heck, I can remember not waking up to that same old beeping noise of my alarm clock during my dorm days just because my brain was used to that sound.

With smart clocks, you can upload your favourite music playlist directly into the device. Which then starts playing at a sound level of your choice (preferably LOUD); for you to wake up at designated hours.
Imagine if you yourself are having a hard time waking up to a conventional alarm clock, then what about your baby sister or brother who is attending school but is too accustomed to using their smartphones during their classes. Read my article on what are the possible damages of carrying a smartphone to a classroom and should it be banned outright or not!
Conclusion
I am sure after going through this rather exhaustive list of gadgets; you must now be thinking that you would need to break into your student savings or even ask for a loan from your parents. Well, not! Almost all of these gadgets begin at a price tag of $50, and you should be able to be up and running with your shiny, fancy smart dorm room in no-time.
These gadgets would not only make you stand out but also make your living space a lot more comfortable, secure and safe! Your room would be the most welcoming room of the campus and would become the talk of the month! The best thing to do is to go slow. Start buying the smart dorm stuff one at a time. This way it won't be hard on your pocket, and you would go through the learning curve on each product as and when you start using it.
Let's go people!