Let us get this first straight out onto the table. Your house front door is the one and the most common entry point for any intruder. Phew, since that's out of the way! Let us now get straight onto how you can enhance your front door security using the tips and methods I have jotted down in the article below. Yeap, I have exercised these personally for my own home, and I found them to be perfectly in line with the latest standards and industries best practices.
It wouldn't be wrong to believe that just by installing a front door lock, you are safeguarding your home and your loves from uninvited guests, which in the context of the article; burglars! Front door security is arguably the first place a burglar would look to gain entry into the premises. They use every possible tool in hand and experience to pry open the front door and gain access to your valuable. God knows that no one wants to be in a situation where they end up meeting the burglar in their home. You would certainly think that why do burglars use the front door and not the window or the back door to gain entry. Well, the answer to that is relatively simple. But in a burglar's mind, the easiest and the safest way in and out of your property is through the front door. This is the sole reason you should not neglect securing your front door to its maximum potential and also remain smart at the same time.
You may think you have got the best deadlock bolt in place for your front door security, what else you might do to enhance its security. Well, for a starter; Good job on thinking in those lines as this article is crafted to address these concerns of you.
Before I head on to the central part of the article, there is this complete How to Prepare For Emergencies page created by the Red Cross organization that is a must-read for anyone interested in preparing the emergency kits in case any natural disaster happens or takes place around you. Do not forget to share it with your family members and the loved ones, because we never know; when a natural disaster could occur. After all, who wouldn't like being called "Red Cross Ready!"?
Here Are The 11 Tested Ways to Improve Your Front Door Security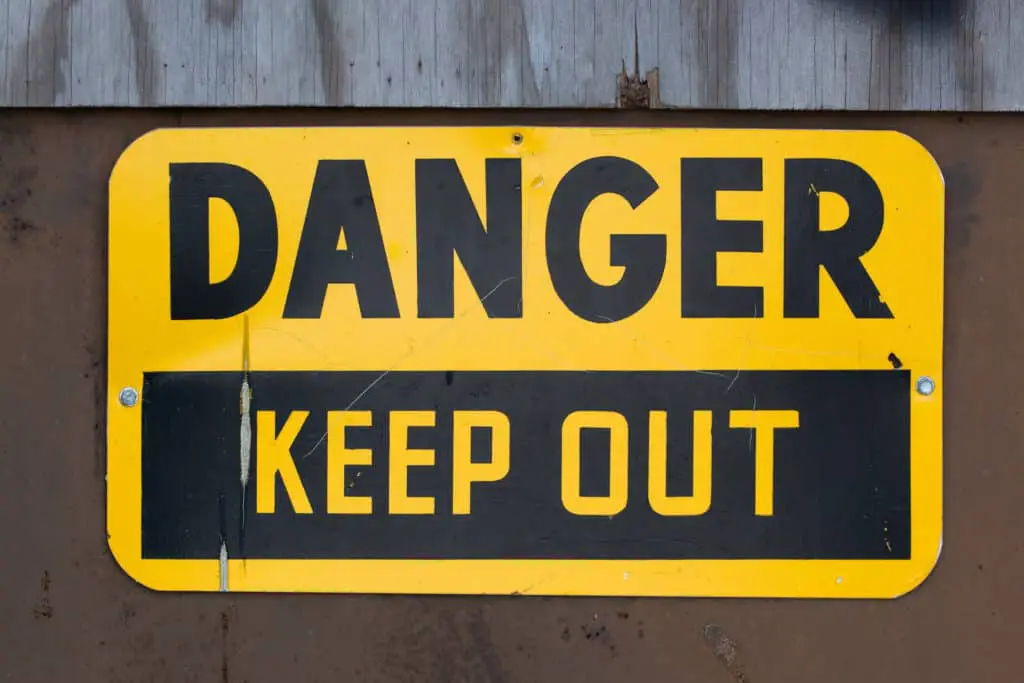 Get your pen and paper ready, as I am about to explore with you the 11 best possible ways through which you can enhance your front door security in under an hour with minimum money spent out of your pocket. Needless to say, these are all tried and tested methods and are the best practices to deter any possible intrusions in your home.
Replacement of the Ordinary Strike Plates and Reinforce Door Hinges
I know of not one, but many of my family members who used to have just plain cheap looking cylinder locks that they considered as the safest way to secure their front doors. Well, let me be the bearer of the bad news here for you! These locks are the "easiest" target for criminals, and they wouldn't hesitate even for a second to just kick their way into your home since that's how easy it is to force them to crack open.
Locks are arguably one of the most essential aspects of your home's front door security. So before reading anything else, we first need to invest in a good set of locks. One of the best possible solution to replace those odd-looking cylindrical locks is by picking up a deadbolt lock!
Wait! Before you head over to your notebook and write "Buy a deadbolt lock, CHECK!"; let me explain. You should invest in a Grade 1 Deadbolt lock for your door security.
What is a Grade 1 deadbolt lock, you may ask? Grade 1 is the highest level of grade awarded to door locks by the organization ANSI (American National Standards Institute). It is often reserved for locks intended for commercial security but is very well suitable for home and residential use as well.
How secure is the ANSI Grade 1 Deadbolt lock? To earn this grade, manufacturers are required to keep into account the following parameters while building the deadbolt lock:
Must withstand 800,000 cycles
Six door strikes
A 360-pound weight test
Must withstand 250 thousand cycles and 10 door strikes with a HAMMER
Therefore, combining Grade 1 deadbolt locks for your front door and the other tips that I have shared in this article should provide you with a reliable security foundation for your front door security.
For my personal preferences, I would go with SCHLAGE branded locks for both my smart home locks and ordinary locks. This particular one is the one that I have tested with and is a certified commercial Grade 1 lock.
If you want to read more about whether you should invest in a smart lock for your front door, then don't forget to weigh out its PROS and CONS before your buying decision.
After you are done picking up a decent Deadbolt lock system, now is the time to invest in a decent and a solid strike plate. A strike plate gets installed directly onto the door jamb and helps the lock complete its job by holding the bolt firmly in the plate. The only type of strike plate that compliments well with a deadbolt and should always be bought in place of those cheap plates is a "BOX PLATE". This is the one I use with my SCHLAGE Deadbolt lock.
Box Strike plates are considered one of the most durable types of strike plates, unlike many strike plates that use a fragile rectangular hole, this particular one uses a steel cup into which the bolt fits firmly. This, along with the Grade 1 deadbolt lock, will ensure to deter anyone from kicking in and other force attacks into your property via the door.
Last but not least, once you pick up both the deadbolt and the strike plate; it is now time to pick up the screws for both the strike plate and the hinges of your door to new ones. Well, not just unique; but they should be 2 ½ inches long. Under no circumstances, should you use the screws that are less than 2.5 inches. Forget about using the screws that are 1 inch and shorter. If you need help with picking screws, then head over to your garage and see if you can readily find some unused 2.5 inches screws lying around. If not, then head over to your local hardware shop and pick those up. Why is this important? The sole reason is that the short screws are never able to help anchor in the strike plate along with the hinges present on the door frame properly and thus the chances of a successful break-in increase significantly. And nope, the screws won't burn a hole in your pocket. They are inexpensive but are a must-have in this particular tip that I have just shared above.
Once this setup is installed and up and running on your door, then rest assured if in case an intruder does try to force their way into the house by way of kick-in or by applying pressure to the front door, the hinges and the strike plate won't budge or slide from their original location. Thus giving you the peace of mind!
NINJA TIP:

You can also install hinge bolts on the hinges of the door,bothunder and above it to maximize this whole exercise of securing your front door. Hinge bolts are known to add that extra layer of protection as ensuring that your door is more kick-resistant.
Hinge bolts installation is vitally important if your door opens outwards since invaders would have easy access to your door hinge pins if it does.
You can also use smart, deadbolt door locks to secure your main entrance. All you need to do is to buy a Grade 1 Smart Door lock and follow the same technique of reinforcing your door using the tips I have mentioned above. To learn more about smart locks head over to my article on are smart locks safe, and you would be pleased to know how beneficial these could be for your home security.
If you are keen to watch a live demo of the strength of locks that SCHLAGE builds, then watch the video below
Reinforcing the door frame
Reinforcing the way the door jamb is structured will significantly improve the door security from an overall perspective, and increase the durability life of the lock and the door. Thus, reducing the chance of a successful break-in via kick-in burglary.
How to reinforce a door frame to prevent break-ins? Well, for this one; you can just pick up a Door reinforcement kit from Armor Concepts. This door jamb reinforcement kit provides ultimate and complete protection to your front door. It comes with a whole bundle of
1 Door Armor Jamb Shield
2 Mini Door Shields
2 Hinge Shields
17 pieces of 3.5 inches screws
Pry shield with tamper-resistant screws
Watch the below video on the product from Armor Concepts put under test.
It is packed with a $500 Lifetime guarantee too. So, once you pick up this kit and install it on your door frame, and by any chance, a break-in is successful through kick-ins; then the company will pay you $500 as a deductible. It's that simple!
If you are not in the mood to shell out money on buying a ready-to-use door reinforcement kit, then click here to create one yourself at home.
Strengthening up your Door
Almost all of the doors built in the newly constructed houses have got sturdy doors. But the same is not applicable for all the doors that are installed in your houses and certainly can be a case if you're living in a house which has a door installed onto it for decades. Well, that is true since my door was one of a kind which had a fragile core. Therefore, if your door is hollow from the inside, even if the shell is made out of metal; then guess what, this door can easily break and split open with enough force applied on it. So, sit tight for my next recommendation.
While it is true that hollow core doors are inexpensive to install and maintain, but it is equally valid that they are not the best for being installed as your main door for your home. Such doors can and should be only for the interior installations since they are rather easy to breakthrough. Doors with a solid core are tough to break through and are considered the securest. Other than that, it is entirely acceptable to have any other type of door to act as your main door, but it should NOT be a hollow one.
Another yet growing problems with the modern doors are that they have got decorative windows installed right into their frame. Needless to say, this is done to primarily enhance the beauty, and create some sort of an ambience for the visitors and the homeowners. Having said that, such doors are not considered secure. Don't get me wrong, these doors look great, and the type of glass used in such fixtures is really strong. So, having a window in your door isn't the end of the world, but if you want to keep your doors secure and ensure that they are not penetrable; then you are wise off staying with doors without any glass installations.
Improve the Security of Your Glass Doors
Glass doors, without a doubt, are vulnerable to force attacks. A glass door with that is equipped with a standard glass pane is not very resistive to kicks, and burglars use this to their advantage to gain access to the deadbolt. They can then quickly and swiftly enter into the property by just turning the deadbolt (unless it is a double-key deadbolt installation).
There are a couple of ways through which you can secure a glass door from break-ins. One best solution is to install a steel security grille. The only downside when considering installing a steel grille with the glass door installation is the ugly look that they exhibit. Well, it is not entirely accurate and shouldn't be a problem since there are many decorative grilles available in the market now. If you do not want the ones that you find on the shelves then, by all means, get hold of a carpenter and get one made right from scratch. You can use examples of steel grilles installed onto glass pane doors to get an idea of what you would like built around your particular glass door.
One significant benefit of installing security steel grilles is that they also serve as a visual deterrent to prospective burglars.
Another recommendation of securing your glass door is by installing a security film on it. See the below video for a visual representation of such films.
You can use such a film on your glass door if you are not a big fan of steel grille installations.
Use A Strike Plate Lock
Most of the houses have installed a standard door chain to protect the door when the owner is present inside the house. The downside is, these door chains do not protect against "force attacks" on the door, and in the event, such a thing happens, they just come flying out without an issue.
If you want to secure your home being kicked in, get yourself a strike plate lock system instead. This kind of a lock is similar to a regular door chain lock that you may have or seen before. However, the difference between the two is that the strike plate lock system is known for its high durability and resistance. Benefits of a strike plate from Door Chain can withstand over 50 full force kicks deployed onto the door onto which it is installed. For comparison sake, a standard door chain would break open after a few kicks as compared to the one that has a strike plate locking mechanism.
How to install a strike plate on a door frame? The installation of a strike plate is a fairly simple and straightforward exercise. It can be done within minutes. There are many videos available on YouTube that can help you install your particular strike plate lock system quickly.
Needless to say, not a lot of people that I know of are using this method to safeguard their doors. But this is indeed one of the most effective ways of enhancing the security of your door. You can combine this with the other recommendations I have jotted down in this article and ensure the safety of your premises.
Install a Door Barricade
If you want to further enhance the door security of your home from the inside, then installing a door barricade is the way to go.
One of the significant advantages of a door barricade is that it doesn't rely on the strength of your door, instead, it relies on the strength of your floor.
There are a plethora of manufacturers who have pumped door barricades and are out there in the market for you to purchase.
How to barricade a door at home? All you need is a screwdriver and a drill machine. And you are good to go. The most famous door barricade is the one from Nightlock. It supports both inward and outward swinging doors and supports both wood and metal door types.
You can install the Nightlock door barricade in less than 30 minutes on your own. You don't need any professional carpenter to do it for you. If you ever get stuck, there are always instructional videos available at their website for your ease.
Use A Door Jammer
Ah, the infamous Door Jammer! Envy those days when life was simpler. Yeap, am a millennial!
You can easily attach a door jammer to your door, and it requires minimal to no effort from your side. It has an adjustable height, and it fits almost any door out there in the world of houses. See what I did there? World of houses!
How to Use A Door Jammer? It is a simple device which requires you to place the yoke end of the security bar firmly under the knob or the lever and the pivoting ball joint on the floor. It works with both hinged and sliding doors as well.
You can also use Sash Jammers installed on your doors to enhance the strength of the door jammers. Needless to say, it is entirely your own personal decision to combine all these recommendations or just use them as per your own choice. Watch the video below of how a Sash Jammer works:
A Steel Security Bar
This is yet another solution to further burglar-proof your home from the inside only. All you need is a steel horizontal security bar to conclude this setup.
How to install a horizontal steel security bar? Why do we use a steel bar for this setup? That's because steel bars are sturdy and are incredibly durable. Thus, allowing them to withstand really high forces. In return, protecting you from forced kick-ins.
Its installation is relatively simple and straightforward: Just get hold of 2 lag bolts that go into the jack studs near the door frame that are part of the wall.
Once inside the house, all you need to do then is to slide the slots of the bar over the lag bolts. That's fairly too much to it, and voila, your door is secured!
One of the significant advantages of using the horizontal steel security bar is that installing is really a walk in the park. It is totally independent of the door and the door jamb, and thus if the burglars are somehow able to destroy the deadbolt, the hinges or even the door frame, they still won't be able to get into your home.
It is a highly reliable and proven solution against forced entries.
Get a Surveillance System
Investing in a surveillance system is the most critical thing you can do whenever you move into a new house. This applies to both new homeowners and existing homeowners. A decent surveillance system would not only help you to discourage burglars but would also let you identify them in case a break-in happens. But the most crucial point to note here is that if all of this CCTV installation is to work to your benefit, then the placement of such surveillance cameras is the key!
For a starter, start by placing the camera at the top of the front door where it can capture not only who is standing on the front door but also a 360-degree view of what is present Infront of the main entrance.
Once you are done with installing one camera, time to invest in another smart CCTV camera and place it, pointing towards your main door entrance. This additional camera installation would guarantee you are being able to capture the footage from angles that are otherwise missed from the placement of the first camera. My best advice to you would be to get hold of a qualified CCTV engineer to get this done for you. But at the same time, do not forget to reset the password to the primary admin ID of the surveillance system to ensure no one else can view the video footage other than you.
This is the smart CCTV system that I have deployed at my house. The beauty of this product is that I can set up motion detection and also enable alerts to be sent directly to my iOS device. Fret not, this device also supports Android mobile phones as well. It is fully compatible with
Amazon Alexa
Apple HomeKit
Google Assistant
The Arlo Pro also offers free cloud storage to store your video feed for up to 7 days.
Get Wide-Angled Peep Holes
Criminals have more than one way to intrude your privacy. It can all begin with a mere knock on your door by someone conspicuous and eventually once you end up opening your door, they just force their way into your property, causing harm. And yeap, this is entirely possible even if your door is slightly open.
The best of avoiding this issue is to invest in a Ring Door Bell. If that is a bit too much for now, then invest in a decent sized wide-angled peephole.
Once you have either of this installed, you would then easily be able to make out who is standing right on your doorstep and if it is someone who you are not acquainted with or your believe poses a threat, then you can choose to either not answer or call the police.
Install a Security Door (Security Screen)
You know how the saying goes, "Two doors are always better than one!" – Said the SmartNutter Admin
What I meant was, security screens add an extra layer of protection to the main entrance door of your house. Now you may ask, WHY DO I HAVE TO INSTALL A SECURITY SCREEN? A security screen is an additional frame that is engineered to keep the intruders out and the homeowners in, safe! This gets installed right behind the main entrance door of your house.
The whole security screen concept is designed with only one constraint kept in mind, and that is "Security!". It embezzles from stainless steel construction, the installation process to the frame, hinges and the locking system used to keep it secure. An actual security screen must pass the international standards set for security. These screens are usually fitted in open areas along where the possibilities of ingress are. This prevents the chances of possible attacks involving someone kicking on your door and banging it wide open!
The security screen can be used to install extra locks, thus also preventing the likelihoods of a planned covert entry. With the help of a security screen present in addition to your regular main door, the deadbolt lock and knob that is added to the frame of the security screen serves as an add-on for further securing your main entrance.
Pro Tip:

The best part of these security screens is that since they have pierced openings; you have the liberty of opening the door and can then easily see everything that is happening on the outside without exposing yourself of going outside.
How Does A Burglar Think?
Your house could be at higher risk:
If it sits in a corner (This is ideal for burglars who are browsing through the neighbourhood and acts as a natural place to stop and ask for directions).
If it is located close to a highway exit (less than a mile)
If it is located on a through street, which allows a burglar to escape quickly and efficiently.
It borders with a wooded area or a playground (provides concealed access to the burglars).
If it is in a wealthy neighbourhood.
If it features no signs of young children living inside the house. (burglars avoid such places as there may be someone in the home with the children)
It was recently bought (burglars have done their research on this one and know that since you haven't developed ties within the neighbourhood yet)
Other than these, there are many other signs what a burglar looks at before they attempt a break-in!
Related Questions
How to Secure a Door Without a Lock?
In all honesty, securing or locking the door without a lock is quite tricky. Fret not, there is a solution to it that I have discussed in the article above.
In a nutshell, to secure a door without a lock you can resort to using door barricades and door jammers effectively. Often at times, this solution is a lot better than having no locks on the door.
The only problem with this method is you need to be present inside the house to keep the door locked. There is no way of securing your door from the outside using barricades and door jammers. Period!
Can I Lock A Door With Pennies?
Yes, it is possible to lock your door with a few pennies at hand.
How To Lock A Door With Pennies? To penny lock a door, simply jam the pennies you have around your house in-between the door and its hinges from the outside. This would prevent the door from opening from the inside. If this trick is done correctly, the only way you can then open the door would be to remove it from its hinges. Which is quite a cumbersome process?
I wouldn't resort to locking my door with pennies unless its for fun!
Can I Use A Door Brace To Lock My Door?
Door braces can very well be used to lock your doors, but unfortunately only if you are present inside the house. They won't work from the outside.
Many door braces can be used to barricade a door. Some of which are:
Portable Door Jammers
Door Security Bars
Floor Bolt Locks
Door Barricade Bars
Door Closer Security Covers
Conclusion
I really don't want you to get paranoid and start losing your sleep at night thinking if you don't follow these steps to secure your front door, then you would get robbed, or worse. My whole intention here was to show you what are the measures you can take to enhance your door security.
These steps would indeed be handy to keep the burglars out and you and your property safe.
If you are worried that someone is targeting you, then do not wait and take the necessary steps to inform the relevant authorities and also ensure to take steps written in this article to your own benefit.
Happy "Jetson" home people!