This is the best time to be a pet. Don't take my word, just "literally"! What I meant was that with the new technological advancements happening in the field of smart home and gadgetry; we can see a wave of high smart-tech products for pets being launched into the market. And needless to say, there are a plethora of gadgets that are in the pipeline for development. Developers have been hard at work designing devices that bring comfort not only to us humans but also to our pets residing with us.
To a few, pets are just animals. But for the other half, pets are "family members". Therefore, our pets should too benefit from the latest advancements in the field of smart home tech. No! I don't mean to get them a flying shuttle… Reminds you of Jetson's doesn't' it? 😊.
Since we at SmartNutter.com are smart home addicts, why not go the extra mile and spread the joy of smart home products to these furry, cuddly animals we call "pets" at our homes. Not only can you offer them smart home gadgets, but you can actually make your life a lot easier into managing them by introducing these fancy gadgets that I have shortlisted down in the article below.
Before I begin, let me be very cut-throat about this whole dogma of "Smart Home Pet Products" that you can find in the market these days. These so-called smart-toys, if not all, many of them are actually quite dumb and a far cry from what we can deem as a genuine, smart device. Or let's use the word "PRACTICAL" here; since that would put this whole paragraph into perspective. I have personally known a few of my family members, friends and their friends whom I have gotten in touch with before writing this whole article about smart home pet products; I've concluded that majority of these are just marketing gimmicks and not close to reality or being of any practical use. Most of them are poor performers.
Luckily, I have put up a sizeable list of smart home pet products that you must and should consider buying in the year 2020. This list would assist you in purchasing a gadget for your furry friend that wouldn't end up being a dud. These devices are bound to brighten up your pet's day and bring a smile to your face and make your pet cuddle in with you after having a fair use of them.
Let us get right down to the list of smart home products that are a must-have in 2020.
Mighty Paw Smart Bell 2.0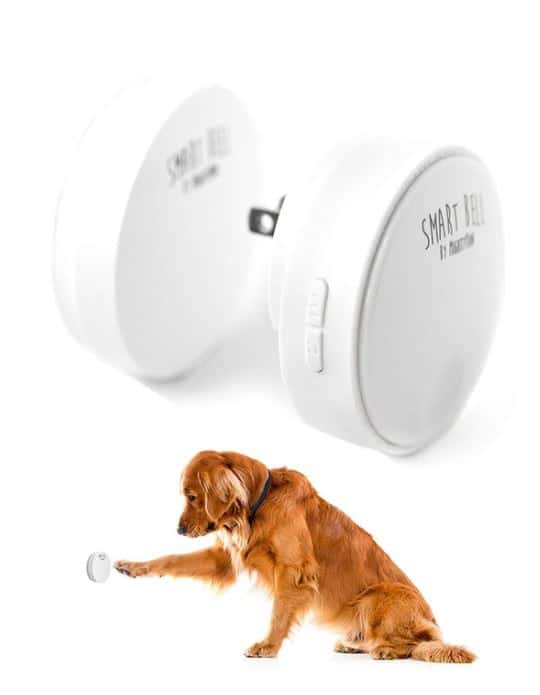 As the product's name states "PAW SMART BELL". Which means, that with the press from a paw on the smart bell; you can be sent an alarm that your furry friends need to go Poo-Poo. With this gadget's installation at your home, you can very well stray away from a scratching, barking and a whining pet whenever they want to go potty.
All you need to do is, to train them to use this bell. This is one of the most premier solutions out there, which is both simple and efficient.
How does it work?
This smart bell consists of 2 components – an activator and a receiver.
The activator is the button on which your dog presses and ideally it should be placed near the door where you normally let your dog in and out of the house. This "activator" installs in practically seconds using a 3M strip and doesn't require a power to operate. This button thingie is very easy to operate and is suitable for dogs of all sizes and weight. Must be thinking, how does it function without power or batteries? Well, for the tech-nerds here, there is a microgenerator installed in the device that sends a "click" that then powers the impulse to be sent to the Receiver, which then generates the sound.
Got 2 doors that your dog uses? Then fret not. Mighty Paw Smart Bell 2.0 comes with an option to purchase 2 of these activators. This option is also ideal for larger homes.
The second component is the Receiver. This is the device on which you will hear the tone once the activator is pressed (or pawed in, if I may say).
For the Receiver, you are required to connect it to a standard power outlet (110 volts). The Receiver comes with a 1,000 ft. range from the activator. Along with the audible alert on this Receiver, there is also a light embedded into its frame that allows you to see when your paw-friend presses on the activator.
On the side of the receiver, there are 2 buttons:
Volume adjustment
Chime tone adjustment
Features of The Mighty Paw Smart Bell 2.0
Wireless technology (No need of a power outlet for the Activators)
Comes with an adhesive for wall/door (Made by 3M). No mounting screws or drilling necessary.
You can choose from Four different volumes.
Option to choose from 38 various ringtones.
Activator & Receiver can interconnect as far as 1,000 feet from each other.
Requires just a mere 0.75 lbs. of compression from either the nose or the paw to activate the sound.
Water-resistant.
90 days money-back guarantee with 100% refund
Product Details
| | |
| --- | --- |
| Dimensions | 4.5 x 3 x 3.5 inches |
| Weight | 7.05 ounces |
Furbo Dog Camera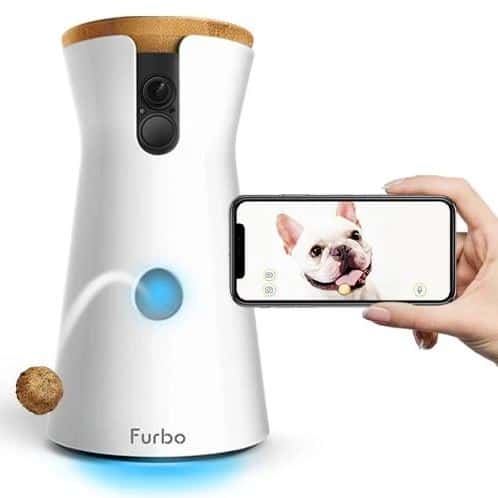 The Furbo Dog camera provides an easy way to connect with your dog while you are away from home. Gone are the days, when your furry friends used to wait out on you to get back home and offer them their long-awaited treats! It gives you notifications when your pet needs attention and most of all, it lets you toss treats to your dog whenever you want, wherever you want! Hey, you can even use the 2-way audio module built-in the Furbo Dog Camera to talk to your dog. What more could you want?
Most importantly, it works with Alexa! Yay.
How does it work?
Furbo has three primary functions. Let us now see what they are:
Tossing treats
Two-Way Audio
One-Way Video
You can easily watch and communicate with your dog via the iOS app if you are iPhone user or the Android app.
The two-way audio features allow you to hear what your doing is on about. This includes talking (if they can), whining (which they should), barking (duh!) or if there are any other noises around your house. You can very well talk to your dog with the help of the Furbo app via your smartphone and give them commands or even vocal-pat them.
If you want to reward your pet, you can pretty quickly do that with the tap on the app.
It's quite simple to set up the Furbo. Just plug in the device into a power outlet, Download the Furbo app and connect to your local home WiFi, and you are all set. The built-in selfie camera on the Furbo allows you to take adorable selfies of your dog and upload them into your smartphone's app so you may maintain that collage of your furry friend!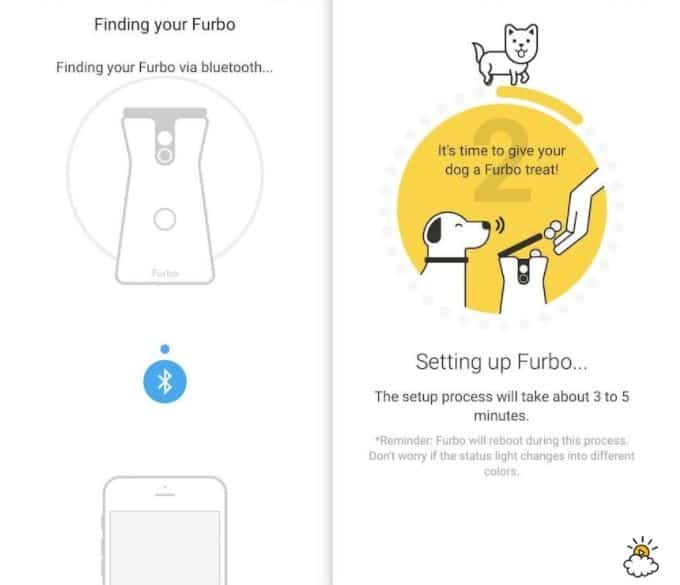 The Furbo comes equipped with a FULL HD 1080p Camera with Night-vision capabilities. An eye-candy to watch videos that are captured from the Furbo.
You can very easily integrate Furbo with Amazon Alexa.
As soon as you are doing linking your Furbo account with Alexa, you can start giving out commands to Furbo such as:
"Alexa, can you please ask Furbo to toss a treat"
"Alexa, please ask Furbo to toss a treat to my dog every 20 seconds for 2 minutes"
"Alexa, please ask Furbo to toss a treat every 30 minutes between 8 AM and 4 PM"
The sky is the limit when you integrate your smart home gadgets with Alexa. And Furbo is no different!
Features of Furbo Dog Camera
Furbo Dog camera is not just an ordinary camera. And here's why:
Features
Furbo Dog Camera
Standard Security Camera
Vet and Dog Trainers approved
Yes
No
Clicker training with Treats
(Furbo players a clicker sound whenever it dispenses the treat to mimic positive reinforcement training)
Yes
No
Cloud Recording Feature (See a 15-second video clip of when your dog is in view of the Furbo)
Yes
No
Doggie Diary (Watch a video highlight of your dog)
Yes
No
Dog Activity Alert
Yes
No
Dog Selfie Alert
Yes
No
Person Alert
Yes
No
Barking, Crying or Howling Alert
Yes
No
Home Emergency Alert (Be alerted when your smoke or CO alarm goes off)
Yes
No
Do bear in mind, that some of the features listed in the table above, require Furbo Nanny Cam subscription. It comes at a monthly subscription of $9.99 and a yearly package of $99 which is obviously a great deal since you save $20, paying upfront for the whole year.
New features are under development as we speak. Which include
Dog Vomit Alert
Choking Alert
Seizure Alert
Health report and much more!
I am confident that as a Dog owner, you too would also find great use of this nifty little gadget. And the possibility of integrating it with Amazon Alexa makes it a lot more fun and connected in terms of "Smart Home Gadgets for Pets".
PETKIT Automatic Cat Feeder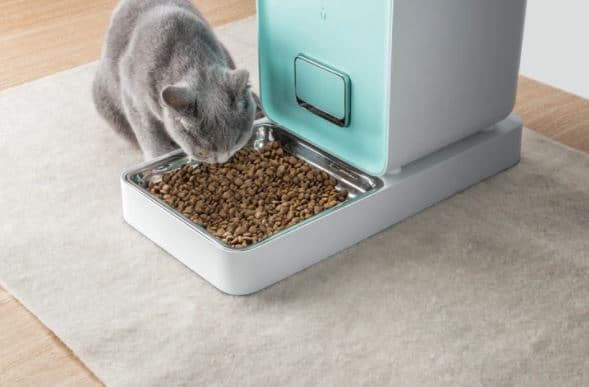 I personally have a Persian cat at my home. And God, she wreaks havoc when she doesn't have enough food in her bowl. Yes, you read that, right! ENOUGH FOOD. She doesn't like it when the bowl is half full. Madame wants a full bowl every time she is strolling past her food bowl.
PETKIT Automatic Cat Feeder is the only solution that helped me get over the trouble of an angry cat. You can easily configure, program and control this gadget using the smartphone app they provide. This unit is equipped with delicate features that stop any cat food from getting stuck into the device. That being said, PETKIT device allows you to set up schedules of when to dispense food into the tray. If you are a cat owner, you must be acquainted with the term "IF IT IS NOT FRESH, IT IS NOT FUN"!
We all run a busy schedule, and sometimes it skips our mind to refill the cat food with fresh kibble! Well, try telling that to your cat? I am confident you won't be getting a great response. WELL, FRET NOT PEOPLE! SmartNutter is there for the rescue!
If your target is to control the dispensing and refilling of your cat's food remotely, ensuring that it is fresh every time your cat is on about its nibbling time and obviously to maintain a regular feeding schedule then get your hands on the PETKIT Automatic Cat Feeder from Amazon.
How does it work?
The PETKIT Smart Feeder seamlessly connects to your home WiFi. Which then allows you to utilize all the features on the gadget remotely, using the PetKit app (iOS / Android). With the help of the app, you can program 10 feeding schedules in a day. The meals can be easily customized between 1 – 20 portions each. The minimum portion being 20g (which is approximately ¼ cup), whilst the maximum portion you can dispense is 400g. Therefore, giving you the leverage to feed as much as you want!
Does your cat require ad-hoc feedings? Or want to give it an extra portion? Well, the solution exists right in the PetKit app. All you need to do is to go to the Home page of the app and:
Press the "+" button at the bottom right
This will open up the snack setting.
Turn on "FEED NOW (Green)"
Choose Quantity
Save
Dispense! = Happy Cat
Once you setup a feeding schedule, you then don't need to worry about refilling the food tray anymore. Since the PETKIT Smart Feeder will do the job for you. If you are concerned that your internet at home (WiFi) is of an issue or if you are worried if it gets disconnected from the power socket, then don't! The PETKIT device will still dispense the food at its given schedule, even if there is no power or WiFi connectivity.
Surprise! PETKIT Automatic Cat Feeder is fully Alexa enabled. Meaning?
Head over to Alexa's skill page and download the PETKIT skill. With the help of this skill, you can easily ask Alexa to control your PETKIT gadget with voice commands. To name a few:
"Alexa, ask PETKIT to give out half a cup now" – Use this to give an immediate snack
"Alexa, ask PETKIT to distribute a quarter cup at 11'o'clock" – Use this to give snack at a specific time
One of the shortfalls of using the Alexa skill to control the PETKIT gadget is that you can not set up a feeding schedule via voice commands.
Let me know how this works out for you. I have been emailing f@petkit.com with my regular recommendations as to what should be incorporated in the Skills section of Alexa viz. this app and if any of my voice commands is not recognized. PETKIT takes out time to reply back to you, showing how great their customer support is.
Types of food you can use in the PETKIT Smart Feeder
Any type of Kibble
Air dried meat-based food
Flat big square type kibble
Any kibble with the size of 5mm up to 25 mm diameter
You also have the option to check how much total food is still present in the container via the app.
Features of the PETKIT Automatic Cat Feeder
App controlled gadget
Customizable schedule for your cat's feeding routine
Dispenses up to 10 meals a day
Individual portions (Range: 20g – 400g)
With desiccant box that allows the food to remain fresh when stored
Removable dishwasher-safe food tray
Hopper Capacity: 6lb dry food
Food indicator
Suitable for all sized cats
Wi-Fi functionality
Light orientation present for night-time snacks
One-Year warranty
One-Month replacement guarantee
Product Details
| | |
| --- | --- |
| Dimensions | 17.5" (With Tray) x 8.8" W x 19.7" H |
| Desiccant Box | 10 cm x 10 cm x 12 cm (3.93" x 4.72") |
| Power | AC Adapter (4-AA alkaline batteries) – Not included in the packaging |
| Weight | 11 lbs / 5 kg |
| Color | Light Blue / White |
| Input Voltage | 100 – 240V |
| Output Voltage | 6V, 1A |
If you are a dog owner, the PETKIT Automatic Feeder will work perfectly well for you as well. Just make sure that the food size and dimensions fall into the size, accepted by the PETKIT Feeder. If you're keen to read more about the product, then I suggest heading over to their FAQ section where you can find a plethora of questions asked by curious buyers such as you and from those who have already owned the product.
Petcube Play 2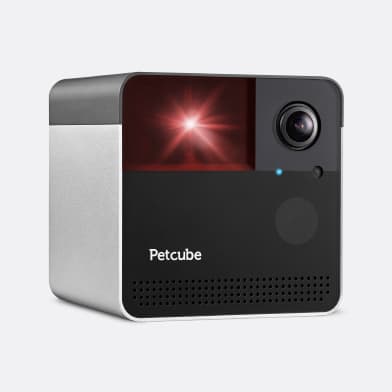 Thanks to the great lockdown that happened in 2020 (well, that's how it would go down in the history books?), pets now have their owners around them at home. To play, cuddle, scratch at and more! These furry friends of ours are delightfully relishing their humans being at home all the time. But what happens when you are back to work or are not able to attend to your furry friend. Well, for this very reason; I got my hands on the Petcube Play 2. An excellent nifty little gadget that allows me to play with my Persian cat and keep him busy. This device not only allows you to see your pet but also allows you to play with them with the help of a laser pointer (Yes! Don't worry about the harms of the laser. Since this is both human and pet-friendly laser pointer).
How does it work?
The Petcube Play 2 comes with a standard HD 1080p built-in camera with night vision support and needless to say, a pretty decent zoom. It supports a 160-degree worth of panning from its base location and comes with a 4-x digital zoom. The picture quality on the camera is excellent, in fact so great that now I can see what parts of my living room requires cleaning *pun intended*. The Petcube Play 2 gives you the liberty to also watch 30-second clips stored in your account—a great way to share videos of your pet playing with your friends.
The Petcube Play 2 comes equipped with a 2-way audio feature which allows you to talk to your furry friend. And if your pet is a Masters in literature, they should reply back to you. (Yeah, once again! Pure pun was intended.) This gadget comes equipped with a sound and motion detection, which can be easily configured with the Petcube app (iOS / Android). Once this is set up, then whenever your pet comes around the Petcube or makes some noise in its vicinity; you will receive a notification on your smartphone of the same.
Without further ado, the LASER POINTER thingie of the Petcube Play 2 is what made me buy it in the first place. This laser is safe for both pets and humans, allowing you to play with your dog or cat remotely. Just open the app, and move the laser pointer by scribbling on the screen of your smartphone. Well, don't scribble! You wouldn't want your pet to go haywire.
You always have the option to set up "Autoplay" so that the laser can move around independently.
To enjoy more features on the Petcube, I would suggest you go through their paid subscription chart below.
The Petcube Play 2 comes built-in with Alexa support. What that means is you can pass out voice commands to your Alexa to control the Petcube Play 2. To begin with:
"Alexa, ask Petcube to setup Autoplay on the laser" – Voila, the laser pointer will go autoplay
"Alexa, ask Petcube to play with Mao" – my cat's name
Features of the Petcube Play 2
1080p HD camera with Nightvision support
4x Digital Zoom with 160-degree Wide Angle View
4-microphone array + speaker bar
Built-in Alexa
Laser Toy
Communicates via Bluetooth/WiFi
Supports Tripod Mount for better maneuverability
Live-video streaming (with a subscription)
Smart notifications (with Petcube subscription only)
Daily video timeline (with Petcube subscription only)
Freely shared videos and images
Comes with a 12-month warranty (24month with premium care subscription)
If you are keen on going through the Petcube Play 2 user manual then click here.
Product Details
| | |
| --- | --- |
| Dimensions | 3.5 x 3.5 x 3.2 inches |
| Item Weight | 1.8 pounds |
Conclusion
With the rise of smart home pet products, it is, without a doubt a great time to be a pet. Heck, if I was a dog or a cat; I would love to have one if not all, products mentioned above with my owner. Since these gadgets allow you to still be able to see and play with your fur-kids even if you aren't at home. Additionally, some of these smart home pet products listed above can also help you keep your pets safe at home.
One more thing, if you are interested in to let your dog walker / cat-attender into your home while you are away, then head over to my article on Smart Locks for homes and ensure you are doing whatever you can to keep your pets and home safe at all times!
Stay safe people!