Without a speckle of doubt in your mind, be assured that homemade food is a thousand times better than dining out. Even in the fanciest of the restaurants, or the most inexpensive burger joints that you are used to going; the quality and the standard of the food is not up to the mark as what you usually would get in your home-cooked meals. Phew! That took Moxy to deliver. Now at the same time, cooking at home takes time; rather, it be your favourite dish that you are used to making every day or week. Or that special rare steak that you must be craving for right now while reading this article; cooking at home requires you to spend a substantial amount of time. And nothing worse when you end up with food that is inedible just because you weren't careful enough while preparing it. Here in this article, I take you through all the smart kitchen gadgets that I have personally reviewed that are bound to make your life easier while cooking smartly in your very own kitchen.
Technology keeps getting smarter day by day, and when I say that; I literally mean that we knowingly or unknowingly are indeed moving towards the concept of "Jetsons" living. Even the most basic of things such as cooking, has been dramatically revolutionised by the invent of smart kitchen gadgets. You can have delicious, healthy and fulfilling meals right at home by the use of these smart gadgets. Whether you value taste or flavour or are just after looking to eat healthily; cooking at home is a wise decision to make. And with the way how busy our life is and carrying out the chores and tasks that each one of us are assigned to do; one care barely finds time to spend into cooking meals that fall under the matrix of both healthy and delicious. But fret not, with these smart kitchen gadgets that I have reviewed and listed in this article; you would be not only able to cook fast but also prepare healthy meals in no-time.
Cooking could never have been easier and simpler with these smart kitchen gadgets!
Here is a list of top 8 smart kitchen gadgets that are bound to take your breath away and are a must-have for any smart home enthusiast and owner in 2020.
KitchenAid Smart Oven+30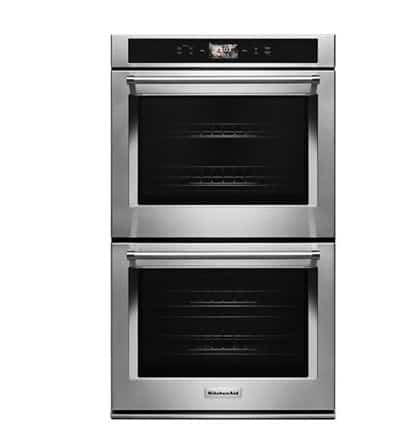 KitchenAid is a well-renowned brand owned by the giant Whirlpool Corporation. The company initially manufactured hand mixers namely the H-5 in early 1919. Eventually, they moved into manufacturing dishwashers which I am sure we all have heard of and they are still in production as well.
KitchenAid has launched a very powerful and a smart double walled oven, namely the KitchenAid Smart Oven+30 that has revolutionised the concept of smart cooking at home. They are the first to introduce a double wall oven that is equipped with interchangeable attachments in line with their iconic mixer that we just discussed above. This enables you; the owner; to grill, stone cook and to steam the food a walk in the park. Not only this, but the KitchenAid smart oven+30 is a smart gadget that also allows you to bake, broiling and use their benchmarked Even-Heat™ convection technology. The whole gadget is embossed with a fingerprint-resistant PrintShield™ finish that will enable you to work with the oven ensuring that it would be spotless and grime free. Yay cooking!
Additional features of the KitchenAid Smart Oven+30 are
The KitchenAid Smart Oven+30 is the most high-end product in the KitchenAid oven series. It comes with a plethora of features, and I have done my best to list them here for your easy read and references.
Smart Oven+ Powered Attachments
It comes with multiple attachments for all your cooking needs. So this device is basically one size fits all.
Smart Oven+ Mobile App connectivity
You can seamlessly connect to your smart oven at home with the help of an app using your smartphone. Not only that, the KitchenAid Smart Oven+30 is compatible with smart voice assistants such as your Google Assistant or any Alexa enabled device. The app called "YUMMLY" has a list of almost 90 recipes that are ready to be integrated into your smart oven. So not only those traditional dishes but you now also get access to those 90 additional ones that you can use your brand new KitchenAid smart oven to make for you and your family.
Grill Attachments
State of the art grill technology used in this device to promote the true-grilling factor. It helps minimise smoke and eliminates the flares that are almost common on outdoor grills. Thus allowing you to grill smoothly and most efficiently.
Steamer Attachments
To get the steamer for the KitchenAid Smart Oven+30, all you need to do is connect your smart oven to the internet; register it and then request for the steamer and it would be sent to you via postage at no additional cost. You can then use this steamer to prepare healthy dishes that are undoubtedly delicious and refreshing.
Baking Stone Attachments
Similar is the case with baking stone attachments. Once you have registered your device, you can then request for the baking stone attachment at no additional cost. Once you have the baking stone delivered to your home you can then easily use this to bake a whopping 14" pizza at your home using this oven and boy-oh-boy; isn't that delicious.
4.5" Full Colored Glass-Touch LCD Display
Lets you quickly see and control the features of your smart oven.
Cook's Assistant Option
Simply select the food that you are about to cook and the desired level of cooking that you want out of it, and use this feature present on this monster oven and voila! It would prepare the food exactly as configured by you using the "AUTO" feature present in the KitchenAid Smart Oven+30.
Philips Smoke-less Indoor BBQ Grill
The name says it all. Yes, sir! You can now have your own BBQ'd steaks, kebobs and what not; right in your own home without a mess. No need to worry about getting those splinters and coal ready. With this new smart BBQ infra-red grill station; you can enjoy ecstatic food right inside your own kitchen. Talk about smart living!
Philips is proud to present its patented Smoke-Less technology in this infrared grill of theirs. It comes equipped with a 1660 watts element that can cook your meat to perfection in no time. It reaches optimum temperature in less than 1-minute as claimed by Philips.
Features
You can have deliciously grilled food with virtually no smoke!
It uses advanced infrared heat technology for up to 80% less smoke than your traditional BBQ grill.
Start grilling within 1-minute. Woah!
It comes with an ALU grid that provides authentic BBQ marks on the food that you are grilling.
Easy-to-clean detachable parts that are also dishwasher safe.
Constant heat for perfecting browning. And nope, you won't end up with a burned steak!
Excess fat that drips during the grilling on this device is collected on to XL grease tray.
You also get hold of a free recipe book that you can use to prepare delicious grills.
Heat Chart of Philips BBQ Grill vs Traditional BBQ Grills
The grill is set to operate at a default setting of 446° F. You can't adjust the grill temperature settings either can you reduce them. But hey, that shouldn't be set back since it is a grill at the end of the day, isn't it!
My wife and I personally are in love with the Philips BBQ Smoke-Less grill and it has saved us the hassle and the unnecessary costs of running back and forth between the shops to replenish the stocks of our old-traditional grill. Gawd! I don't want ever to go back to those standards again.
With this grill, you can quickly cook a chicken with the bone in it. The size of the grilling area is approximately 12×7. One thing you should keep in mind when using these indoor grills is that remember not to overcrowd the grill with a plethora of grillable items. If you want to grill a fancy corn-on-the-cob, then I would suggest to go with the manufacturer's recommendation and swap the grill with the accompanying vegetable grill surface (that comes included in the package). This allows to easier cooking of your veggies.
If you are concerned about the PTFE (Polytetrafluoroethylene), PFOA (Perfluorooctanoic Acid) and the PFOS-FREE (Perfluorooctanesulfonic Acid-FREE), factors; then you would be surprised to know that this grid has non-stick aluminium grids that use PTFE coatings. However, all the other materials that come into contact with the food during the cooking process of food is PFOA-Free.
So all in all, this is a fantastic grill, and I would suggest you buy it directly from Amazon since you are given awesome customer support and in case of faults, you can always go back and exchange it.
Uutensil Stirr – The Unique Automatic Pan Stirrer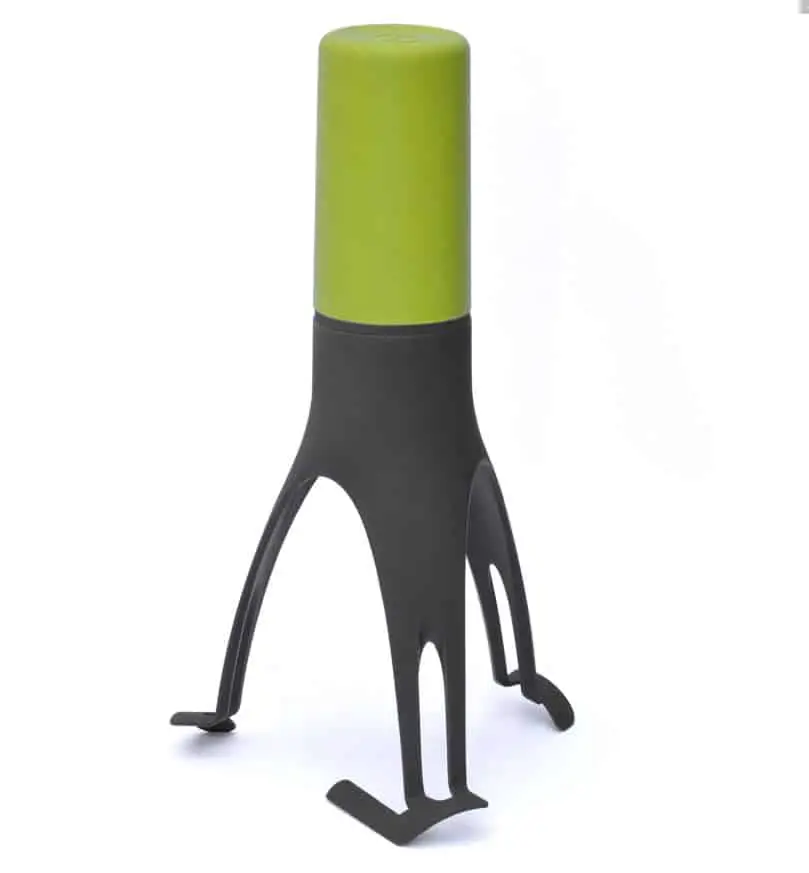 You read it right! Ladies and gentlemen, it is the well renowned AUTOMATED STIRRER by Uutensil. Gone are the days when your curries and porridges used to burn out just because you were focusing on dicing and chopping away other meals in the kitchen. Just get your hands on this automated Stirrer and you are good to go. Just place it on the pan and toggle it on and let the Uutensil Stirr do its job of continually stirring your favourite gravy.
The Uutensil Stirr is equipped with self-rotating 3-speed options that allow for smooth stirring and you can easily control the stirring speed depending on the recipes you are on about. It is ideal for porridges, sauces, gravies and any other mixtures you can think of. Imagination is the key here. And yes, it is cordless and is battery operated. You would need to install some good decent branded 4 x AAA batteries for it to work. Since it is portable, you can easily remove the legs from the device and pop it directly into the dishwasher for cleaning.
Based on personal experience, I would recommend that you do not entirely immerse it into the gravy since you can wreck the circuits. However, you can very quickly dip the stirrer all the way deep into the sauce. Just remember that you do not immerse the battery part into the gravy. Up to the legs, it is okay. This tip helped us greatly save the hollandaise sauce that my wife and I made for Christmas. Based on which I am now thinking to test this stirrer and make a roux with it.
If you are Korean rice soup lover, then I would suggest you pick this automatic stirrer up directly from Amazon. It works wonders in continually stirring the soup while it's being prepared.
Just don't go about making jam and expecting it to stir flawlessly in the mixture. It is not about the power on the device, the power is sufficient. What matters during its performance is the stickiness of the substance it is kept in for stirring. Too sticky, and it would rotate slowly. To avoid stickiness people!
The round cylinder on the top of the gadget holds the battery in it.
So do not burn things which require continuous stirring. Just get your hands on this, and you are good to go!
Rotimatic – Automatic Roti Maker Machine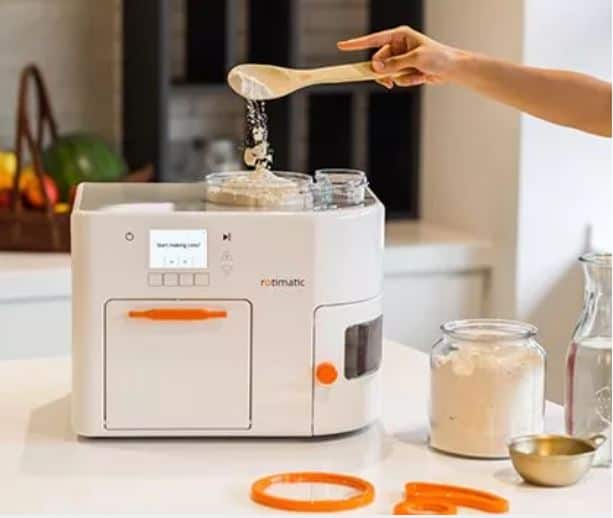 Are you prepared to give your kitchen a complete AI (Artificial Intelligence) and an IoT (Internet of Things) makeover? Then, the Rotimatic is a must-have for any kitchen who savours having Asian food. Let us begin with the fact that making flatbeds is a hefty job and a lengthy and tedious process. If you agree to this, then read further! If not, then, by all means, shift to the next bullet point of this article.
With the help of this fully automated Roti-maker, you can easily decide on your own
What sort of bread you wish to prepare
What type of brand or flour to utilise
The oil content
The thickness of the rotis to be made
The number of rotis to be prepared in a batch
And the total extent of roasting each roti should undergo
Compare this to the traditional method of making rotis, once you get your hands on the automated roti maker; you can reduce the cumbersome task of preparing delicious rotis right off the bat.
Since the Rotimatic is a self-controlled AI and a Robot, it can easily update its own software over the internet. Troubleshoot itself on its own when needed, adapt to the new cooking styles and the best part is that once you pour in all the ingredients into it, you do not need to interact with the device to prepare you the delicious roti and other flatbreads you want. It handles the kneading, cooking, mixing, cooking and baking the roti on its own. And let me tell you, it does a flawless job. The owners of the product have sold over 50,000 units YTD (Year-to-Date) and are aiming to double the sales in 2020. It is priced at approximately $999 on Amazon and it is going out like crazy.
What is the difference between a regular roti and the one made by Rotimaker?
| | | |
| --- | --- | --- |
| | ROTIMATIC | HANDMADE ROTI |
| Convenience | One-touch | Tedious & Messy |
| Thickness | 1.4 – 1.7 mm | 1.2 – 1.6 mm |
| Diameter | 14-15 mm | 13-18 mm |
| Time Taken | 90s per roti (After an initial 6 minutes of the device warmup) | 25-30 minutes |
| Ingredients | 160 brands | Any |
| Customisation | Roast, Thickness, Oil | Any |
There are two models available in the Rotimatic series.
Rotimatic
Rotimatic Plus
I would stick with the Rotimatic (1st generation) as it does the job. But if you want to shell out a bit extra, then you can get your hands on the Rotimatic Plus for a price of $1198.
Let me list down some of the things you can make using the Rotimaker
Roti
Puri
Pizza
Bajra Flour
Jowar Flour
Gluten-Free Flour
Khubz, Pita
Tortilla
Wraps
Chickpea Flour
Every Rotimatic that you buy comes packed with
Rotimatic unit
Kneading set
Containers (Complete Set)
Cleaning Kit
Technical Specifications of the Rotimaker
Voltage – 220V
Frequency – 50/60 Hz
Dimensions – 40cm (W) x 40cm (D) x 33 cm (H)
Warranty – 1 Year
Power – 1.6 – 1.8 kW
Weight – 20 Kgs / 44 Lbs
Supported Flours – Variants of Sujata, Aashirwad, Pilsbury Flour
Rotimaker comes with a 24/7 access to their support team in case you need help setting it up or troubleshooting anything that is beyond the AI of the machine itself. On top of that, if your machine ever breaks down; you can simply log a service request using the Rotimaker app and the service delivery team would arrange for the pickup of the machine, have it repaired/fixed; and deliver it back to you.
Instant Pot Smart Electric Pressure Cooker
We use pots almost daily in our kitchen for cooking the most delicious of the foods for ourself and the family. And if that cooking includes preparing meals that require careful calibration of heat and prep times, then it tends to get tedious doing all this manually. Imagine, cooking 2 – 3 dishes for the family every day. I know its not an easy job. What if all of this was being heard by the tech experts in the Kitchen industry and they revolutionised this by introducing the infamous INSTANT POT SMART ELECTRIC PRESSURE COOKER.
Don't get carried away by the name "COOKER'. The InstantPot ® has launched multiple cookers over the past few years and their latest one being the DUO EVO ™ PLUS. This cooker helps you prepare the most delicious dinner to create the most delicate desserts, all with the touch of a button. You can also make delightful soup, fantastic mouth-watering sous vide. A side of rice serving along with steamed veggies and what if I tell you, you could also make the best fluffiest CAKE using the DUO EVO Plus! WOW!
The list of possibilities you can use this cooker to make your food are endless. To list a few:
Pressure cooker
Rice cooker
Slow cooker
Yoghurt maker
Steamer
Sous vide
Saute
Food warmer
Cake maker <- This is a fantastic feature!
Stockpot
The InstantPot Duo EVO Plus speeds up your cooking time from conventional methods by 80%. Push buttons available on the cooker itself allows you to set up the pot to prepare the dishes that you desire. The dial present on the gadget will enable you to set the temperature manually or cycle through other options for cooking your favourite meal.
Within the DUO EVO PLUS series, there are 2 different Quart size available. From the below table, you can find out the difference each one brings into your kitchen countertop.
| | | |
| --- | --- | --- |
| Model | Duo Evo Plus | Duo Evo Plus |
| Size | 6 Quart | 8 Quart |
| 9 Smart Programs | Pressure Cook, Rice/Grain, Steam, Saute, Slow Cook, Sous Vide, Yogurt, Bake | Pressure Cook, Rice/Grain, Steam, Saute, Slow Cook, Sous Vide, Yogurt, Bake |
| Power | 1200 W | 1400 W |
| Power Supply | 120V-60Hz | 120V-60Hz |
| Weight | 5.9Kg / 13.01lb | 7.2Kg / 15.82lb |
| Dimensions (inches) | 13l x 12.7w x 12.8h | 14.37l x 13.9w x 14.2h |
| Dimensions (cm) | 33.1l x 32.2w x 32.5h | 36.5l x 35.3w x 36h |
| Warranty | 12 months | 12 months |
| Accessories Included | extra sealing ring, steam rack with handles, and condensation collector | extra sealing ring, steam rack with handles, and condensation collector |
So if you are sick and tired of the dilemma of the question "WHAT's FOR DINNER?" then the InstantPot Smart Electric Pressure Cooker is the answer to this problem. It comes packed with 1,000 recipes that are available in the smartphone app.
The InstantPot comes fully integrated with Amazon Alexa and thus just with voice command you can ask your very own Instantpot cooker to read out the recipes to you while you are cooking.
All of the product lines of the Instantpot are UL certified which are compliant to the FDA standards. The plastic material used in the lid is BPA-Free.
The best part is that with the latest releases and the firmware upgrades, the Instantpot Smart Electric Pressure Cooker is now also compatible with Google Assistant. Don't hold me for a ballpark figure on this, but this is personally tested! You are free to try it out yourself and find out.
Atomi Smart Coffee Maker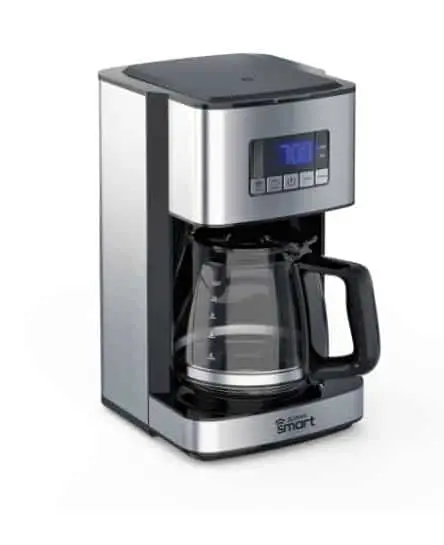 No matter if you are a coffee novice or a connoisseur, this coffee maker is a must-have for you. Mornings are so much relaxed & better if you can just say "ALEXA, CAN YOU PLEASE BREW ME SOME COFFEE, LOVE!" before you even roll out of your bed and head into the shower to begin your day.
The sip of the morning coffee is something that not only vitalises your brain but also provides you with that initial energy boost that one requires to start off their day, fresh. On the contrary, it is indeed a tedious job to brew the coffee and then pour it. All of this is time consuming especially if you are someone like me who has 5 alarms, all at different intervals just to wake up in the morning. Yeah, am not a morning person! But what I do know is that I love my coffee and want it fresh.
With the help of the Atomi Smart Coffee Maker, you can not only command Alexa to brew your coffee; but you can also set up timers and schedules in the app to brew your coffee at a particular time in the morning/afternoon or whenever you deem fit. So once you wake up, your coffee freshly brewed and aromatic; would be ready. The carafe is wide enough to ensure you have sufficient cups prepared.
It comes with a permanent reusable filter that allows you to pop it straight into your dishwasher every time you are done making coffee using the Atomi coffee maker. On the top, it is ETL certified (also known in the US as a Product Listing Mark).
You do not need a hub to operate this coffee maker. It works off of a 2.4 GHz wireless frequency. All you need is your smartphone, the Atomi coffee maker app and you are good to go brewing your next cup or cups of coffee.
The best part about this product is that it is well within the mainstream audience price range. It goes out for approximately $90, including free shipping.
I thought to share a list of necessary safeguards that you should resort to when using the Atomi smart coffee maker. They are:
Read all the instructions before you use the product
Use the knobs and the handles to use the device. Do not touch the plates when they are hot.
Do not immerse the cords, plates or any other electrical parts of the device into water or any other liquid for that matter.
Close supervision is advised if you are using the device near children.
Unplug the device's cord from the power outlet when it is not in use.
Do not use it outdoors.
Do not let the cord hang over the edge of the table of the counter you intend to keep the machine on.
Do not place on or near a gas outlet or an oven.
Do not try to make anything in the appliance other than coffee. Duh!
The manufacturer of the product doesn't recommend the use of accessorial attachments.
Keep the device 6 inches in radius from any foreign objects.
Make sure the carafe is carefully kept on the metal plate before you toggle the device on.
Do not add freezing cold water into the carafe if it is already hot.
Do not brew the coffee if the brew basket lid is open.
This appliance is for household use only and should not be used in commercial shops.
Slight smoke or odour may emit during the first few initial uses. This is normal and should go away after a few uses.
Do not under any circumstances remove any of the service covers present on the device. Call the customer support or get in touch with them in case there is a fault in the machine. You can use this link to get in touch with their customer support.
Don't get carried away by thinking that all of these smart devices are a burden to your already existing smart home network. The bandwidth that these teeny tiny things require is close to none. If you are really keen to know what are the bandwidth implications of smart home devices and what is the right amount of bandwidth you need to sign-up to from your local ISP then head over to my article on "How much bandwidth does a smart home use?" for an in-detailed guide where I have covered everything from scratch!
Umbra Otto Automatic Hand Soap Dispenser
Tired of pressing and punching the soap dispenser to get those soap drips to wash away the grime and stained hands of yours? Or perhaps whenever you have got your hands full in the kitchen, and you do not want to stain the shiny soap canister you have placed in your kitchen by pressing on it? How about if you have flu and cough and do not want to contaminate the soap dispenser by touching it? Then this one is for you!
Umbra Otto Automatic Hand Soap Dispenser dispenses a fixed amount of liquid soap without the need of touching the pump. Because it practically has no pump and operates purely through infrared sensors.
The OTTO soap dispenser has a 6 fluid ounce (177 ml) container and measures 8 ¾ x 4 ¼ x 3 ¾ inches that you can use to fill with your favourite liquid soap. You can even pour a hand sanitiser in it and keep it across the hallway for yourself and your family members to use it whenever they walk in and out of the house. No need to necessarily wash the hands with soap if they aren't soiled, right? This gadget is designed by Dennis Cheng, the fluid level indicator present on the gadget allows you to clearly see when you are running out of the soap or sanitiser that you have poured into the device. It has a top-loading facility which ensures mess-free pouring of your favourite cleaner.
The contemporary design of the OTTO soap dispenser requires 4 x AAA batteries to operate. The wear and tear of the cells are not high and thus you should be able to get a decent amount of dispenses before you ever need to replace the batteries.
The OTTO soap dispenser comes in 3 different styles.
Nickle / Black
White / Chrome
Black / Chrome
Black and Chrome one is my favourite! Mama-Mia.
The Chefman Electric Egg Cooking System
If your whole family is a fan of having boiled eggs for breakfast, then no one else other than you would know how tedious process it is to cook those eggs. And Gosh! The time it takes to boil them is out of the world.
The Chefman Electric Egg Cooking System can boil and poach 6 eggs at any given time. With a built-in active buzzer signal, you can cook your eggs to perfection. How?
How to boil eggs using the Chefman Electric Egg Cooking System
Place the eggs onto the tray that is provided by the manufacturer.
The measuring cup for pouring water comes marked with levels for hard, medium or soft boiled eggs.
There is a piercing pin at the bottom of the tray that punctures the eggs sophisticatedly not to allow the eggshells to crack when being cooked.
Cooking Chart
| | |
| --- | --- |
| Soft Boiled | 5-6 minutes |
| Medium Boiled | 8-10 minutes |
| Hard-Boiled | 12-14 minutes |
How to Cook Poached Eggs using the Chefman Electric Egg Cooking System
Place the egg cooker on a clean surface.
Remove the lid and the cooking tray
Fill the measuring cup with cold water and pour it into the cooker until the levels marked (omelette/poached). Pour cold water onto the heating plate.
On the poaching tray, spray it with a little bit of butter or any non-stick spray.
Break 1 egg into each section. Remember, for poached eggs; the tray can only prepare 2 eggs at a time.
Place the lid back on top of the unit and fire it up.
It comes in two colours, Red and Black.
The unit beeps when the eggs are ready to be eaten. It has a transparent ventilated hood through which you can easily see the levels of cooking. And on the top, it is DISHWASHER SAFE!
The device is cETL approved with advanced safety technology and long-lasting durability. The lids are BPA Free.
It comes with a 1-year warranty. So cook your eggs worry-free!
Conclusion
I am sure that one of the listed products that I have reviewed above are new to you. Here at smartnutter.com, I make sure that I do whatever I can to provide my readers and subscribers value-added information to help ease off the journey towards living in a smart home.
The Egg maker is one of the best things you can buy for your kitchen. It is not just eye-candy but also helps solves the problem of preparing a bunch of boiled eggs in one-go. The Otto's hand dispenser is fundamentally essential and is both inexpensive since it doesn't cost much and comes with an RTB warranty; given which you can easily forget about having it malfunction (hey, every gadget is prone to a fault); and thus you can return it for a replacement or a repair.
Such smart home upgrades can even help you get appraised by potential buyers if you ever think about selling your smart home. I have composed an in-depth article on this topic here at "6 smart home upgrades to help sell your house".
I am glad you read throughout the article and I would appreciate your comments to see if this article benefitted you.